HKZM Bridge Officially Opened!
Direct Bus from HK to Sands Resorts Macao

Guests can pre-order tickets for 14 days and choose either one-way or round-trip tickets, with no restrictions on westbound or eastbound (one way - Hong Kong to Macau or Macau to Hong Kong) (round trip – Hong Kong and Macau).We offer various payment methods but currently only cash will be accepted.
We do not offer senior or child discounted fares. Free ticket is only applicable for child under 3 years old and doesn't occupy a seat.
Fares

Monday – Friday

Saturday, Sunday & Public Holidays

Before 18:00 HK$170.00 per single trip.
On or after 18:00 HK$190.00 per single trip

HK$190 per single trip
Hong Kong Selling Location

Selling location

Location

TEL

KWUN TONG

Life Lobby, G/Fl. APM, Phase V, Millennium City, 418 Kwun Tong Road

+852 3148 9184

TSEUNG KWAN O

Shop 122, 1st Fl., Popwalk, 12 Tong Chun Street

+852 2506 1955

DIAMOND HILL

Shop G115, G/Fl., Plaza Hollywood, 3 Lung Poon Street, Diamond Hill

+852 2722 0333

TSIM SHA TSUI

13/Fl., Kai Seng Commercial Centre, 4-6 Hankow Road, Tsimshatsui

+852 3412 6677

YAU MA TEI

Shop D, G/Fl., Hip Kwan Commercial Building, 38 Pitt Street, Yaumatei

+852 2264 8833

YAU MA TEI

Shop C, G/Fl., Shanghai Mansion, 380-390A Shanghai Street, Mongkok

+852 3944 8999

MONG KOK

Shop 18, G/Fl., Tak Bo Building, 19B-19G Nelson Street, Mongkok

+852 2397 2777

KOWLOON TONG

Room B, Ticketing & Waiting Office, G/Fl. Suffolk Road Public Transport Interchange, Kowloon Tong

+852 2337 5510

KWAI FONG

Shop A01, G/Fl., Kwai Chung Plaza, 11 Kwai Foo Road, Kwai Fong

+852 2422 2672

NORTH POINT

Shop 11, G/Fl., Odeon Building, 28 Shu Kuk Street, North Point

+852 2557 6448
Macao Ticket Center

Selling location

Location

Operation Time

The Venetian Macao

Cotai Travel (Shop 612, Level 3)

08:30-21:00

Concierge (Main Lobby)

24 hours

The Parisian Macao

CotaiTravel (Shop 107, Level 1)

08:30-21:00

Hotel South Lobby Concierge (Level B1)

11:00-21:30

Sands Macao

Ferry Ticket Counter (Level 1)

24 hours

The Londoner Macao

CotaiTravel (Shop 1030, Level 1)

08:30-21:00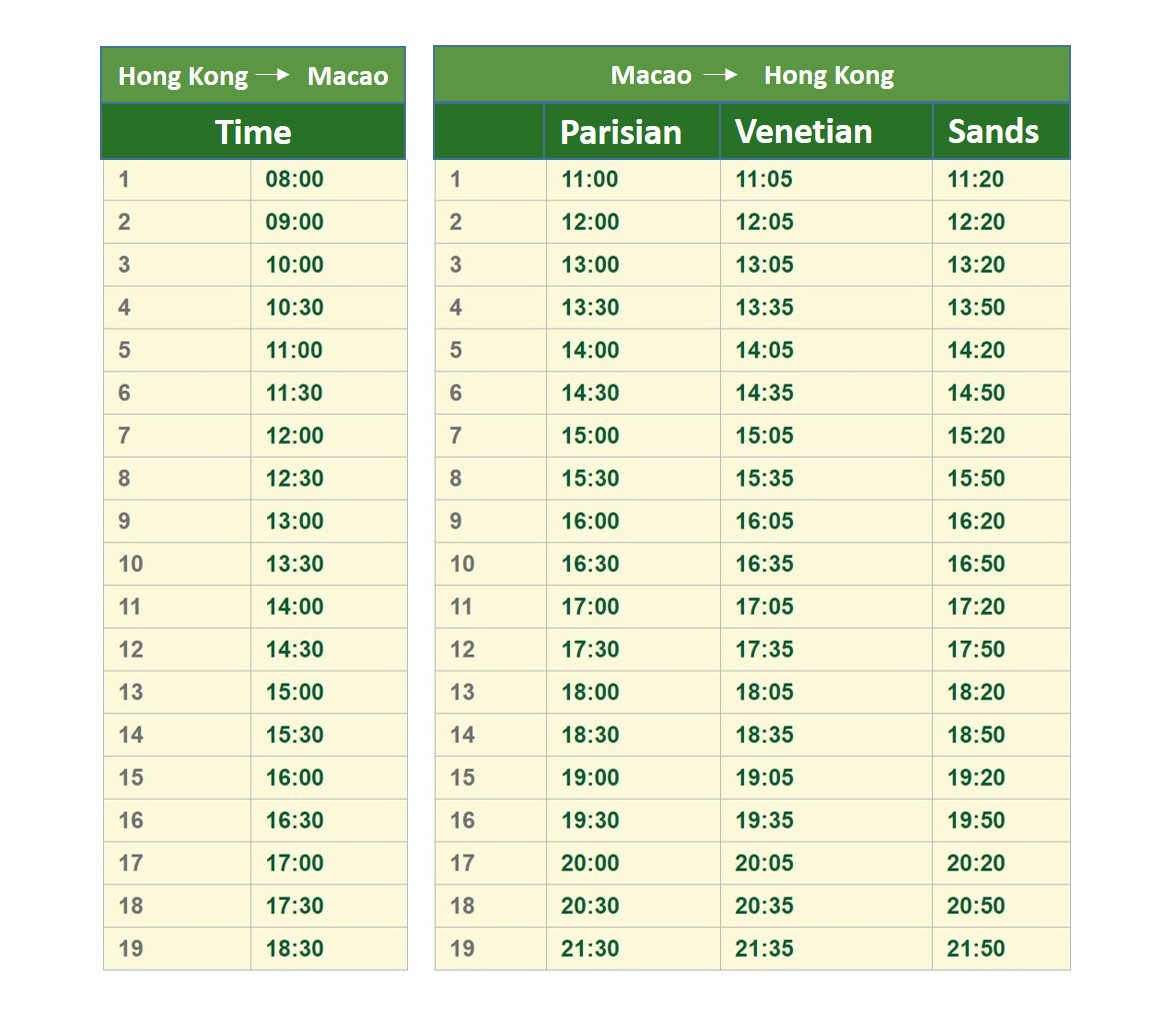 Each traveller is allowed to carry only one piece of luggage. The dimention should not exceed 56cm x 36cm x 22cm.
According to the government regulations of People Republic of China, Hong Kong Special Administrative Region and Região Administrativa Especial de Macau, One Bus Hong Kong Macau Limited has the absolute authority and its sole discretion to refuse permission to board to any passenger found with any explosive/ dangerous/ flammable/ toxic/ corrosive items, as well as any prohibition of import and export goods by the Customs of the Governments.
Passengers must take care of their own baggage and personal belongings when they stop or get on or off the bus. The passengers are responsible for all the risks of their own baggage and personal belongings. Any loss or damage, "One Bus Hong Kong Macau Limited" will not be responsible.

1. How to book a ticket?
Reserve can be made on "One Bus" website, counter of Eternal East Cross-Border Coach Management Limited at APM Kwun Tong and the Venetian Macao

2. Where can be aboard?
At the APM Kwun Tong, The Parisian Macao, The Venetian Macao and Macau Sands

3. Do you need to bring your luggage off the coach when you pass the customs?
Passengers are required to bring all their luggage and personal belongings through customs clearance.

4. Weather
- What is the arrangement under the typhoon or rainstorm warning signal?
Regardless of Hong Kong or Macau, as long as the typhoon signal No. 8 or above or the black rainstorm warning is hoisted or hoisted on or before 07:00, service will be suspend. Typhoon signal is No. 3 or below, yellow or red rainstorm warning signal is hoisted, all services will remain normal. Passengers should pay attention to the latest weather conditions on the radio or TV station.
- Strong wind control measures
In accordance with the notice from the Hong Kong-Zhuhai-Macao Bridge Authority, we will cooperative and provide relevant services.

5. What if I missed the shuttle bus while I used a long time to clearance in immigration?
In order to avoid delays in the travel of other passengers, individual passenger clearance procedures is delayed in a case of inspections by immigration, customs, health and quarantine departments of China and Hong Kong., individual passengers may turn to the next shift of ONE BUS or use other kind of transportation at their own expense. If the passengers are stuck in the customs due to documents, taxation, etc., and are unable to catch up with the shift or delay the itinerary, the company will not be responsible for any transfer expenses and other losses.


Hong Kong-Zhuhai-Macao Bridge (HZMB) being situated at the waters of Lingdingyang of Pearl River Estuary, is a mega-size sea crossing linking the Hong Kong Special Administrative Region (HKSAR), Zhuhai City of Guangdong Province and Macao Special Administrative Region. The project started on 15th December 2009 and Completed on February 2018.
The HZMB will be the longest bridge-cum-tunnel sea-crossing with dual 3-lane carriageway, which is about 55 km in length The HZMB Main Bridge runs from the artificial island off Gongbei of Zhuhai to the eastern artificial island for the tunnel section just west of the HKSAR boundary. The project includes a 29.6 km dual 3-lane carriageway in the form of bridge-cum-tunnel structure comprising a tunnel of about 6.7 km; and four artificial islands in total;
The construction cost of the HZMB Main Bridge, are contributed by the three places (Hong Kong, Mainland and Macao) which for preliminary design, site investigation, detailed design and construction of the HZMB Main Bridge.
Hong Kong-Zhuhai-Macao Bridge Authority is jointly organized by the governments of Guangdong, Hong Kong Special Administration Region and Macao Special Administration Region, and is mainly responsible for the construction, operation and maintenance and management of the HZMB main body.
After the opening of the Hong Kong-Zhuhai-Macao Bridge, the traffic time between Hong Kong, Zhuhai and Macau will be reduced sharply. The journey time will only take about one hour, and there is no need to bypass Shenzhen and Humen. Hong Kong-Zhuhai will also form a one-hour life circle.