Home >

Get inspired this spectacular September season at Sands Resorts Macao
Get inspired this spectacular September season at Sands Resorts Macao
Happy Mid-Autumn greetings from Sands Resorts Macao! September is the best time of year to be in Macao, as it is when colourful lanterns are on display all throughout the city in celebration of the Mid-Autumn Festival and fireworks light up the evening sky.

Whilst you host your meeting with Sands Resorts Macao this month, you and your delegates will feel the magic of Mid-Autumn as The Parisian Macao lights up with special Neon Light Decorations all throughout the day, and the Eiffel Tower glitters with vibrant light shows in the evenings.
The Parisian Macao is all a-glow
The Parisian Macao is going above and beyond to light up the Shoppes at Parisian with a series of incredible lighting installations now through February 2020. These Neon Light Decorations can be found in four themed areas: Love, Fashion, Music and Food. You and your delegates are welcome to take selfies or welfies against the backdrop of our neon-lit Eiffel Tower on Level 1 and the Wall of Love on Level 3.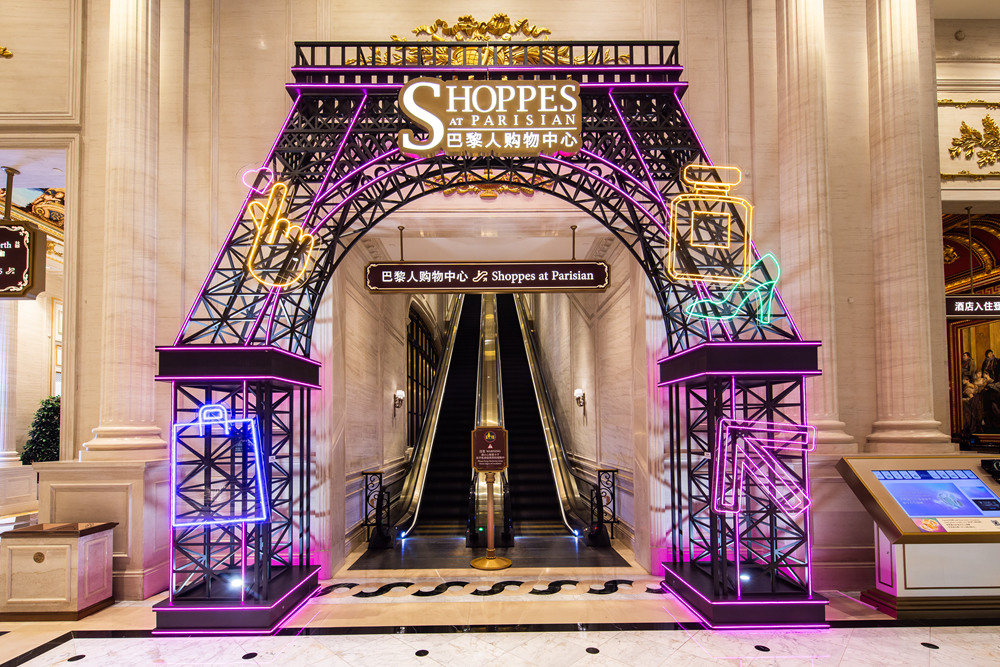 Parisian Neon Lighting Decoration at Shoppes at Parisian
Spectacular fireworks light up the sky
Macao has much to celebrate this year with Mid-Autumn and the 20th Anniversary of the Establishment of the Macao Special Administrative Region. In honour of Mid-Autumn and its 20th Anniversary, the Macao Government Tourist Office (MGTO) has specially invited 12 world-class pyrotechnic teams from around the world to compete in firework contests on September 13 (Mid-Autumn Day); 21 and 28 as well as October 1 (National Day) and 5. Join in the city's celebrations after a long day of back-to-back meetings, and watch as the skies over Macao are filled with bursts of colour from all of the firework displays.
Join in the festivities – inside and out
With so many colourful festivities taking place both indoors and outdoors throughout September, we hope to inspire you and your team of delegates as you think about hosting future indoor and outdoor events in Macao. Sands Resorts Macao is pleased to offer you a host of venues – both indoor or out.

Discover more than 150,000 square metres of versatile meeting spaces, where options for your events are virtually limitless. Indoors, you are welcome to choose from the 15,000-seat Cotai Arena; 1,800-seat Venetian Theatre and the Venetian Ballroom which can cater for more than 7,000 people.

Just earlier this year, we hosted a spectacular 'Legends' Sales Excellence Appreciation Awards Gala Dinner, where more than 240 guests attended a glamorous gala dinner in the 5,200-square-metre Parisian Ballroom.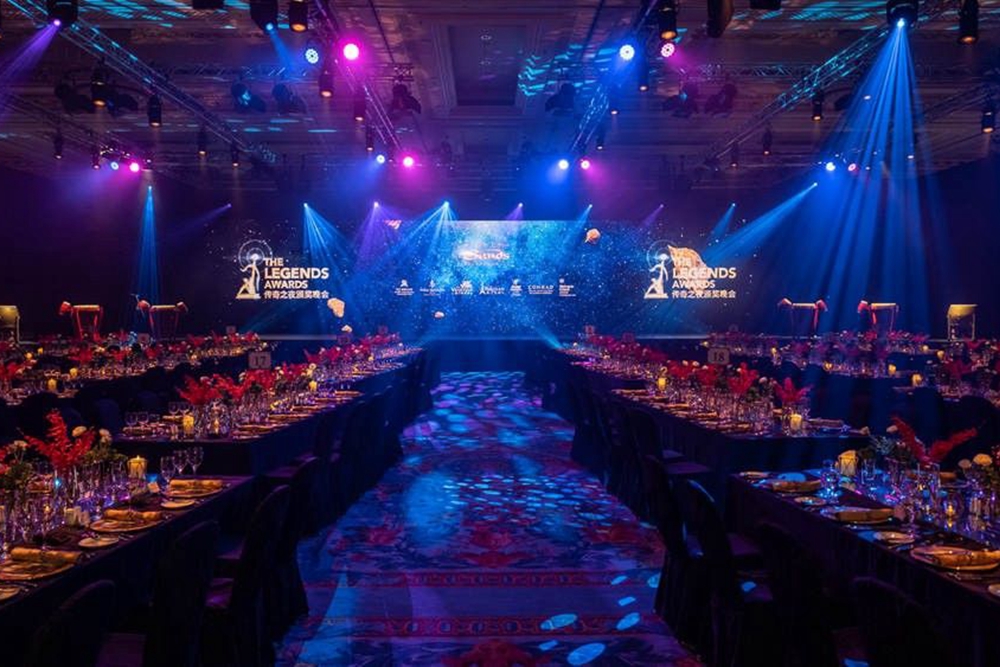 The 'Legends' Awards Appreciation Dinner 2019 at The Parisian Ballroom
Or, step outdoors where you can experience an extraordinary event with a view to the neon-lit Eiffel Tower or spectacular fireworks from the spacious Parisian Pool Deck designed for up to 500 people, or the sprawling lawn at Il Prato which can cater for as many as 5,000 delegates.

To give you a taste for the kind of outdoor events we have to offer, we hosted a tremendously successful French-themed welcome cocktail party called "Bon Vivant" at The Parisian Pool Deck in 2017. This event marked the launch of "The Ultimate Download – Asia's Leading Meetings & Events Destination" with the Eiffel Tower as a stunning backdrop.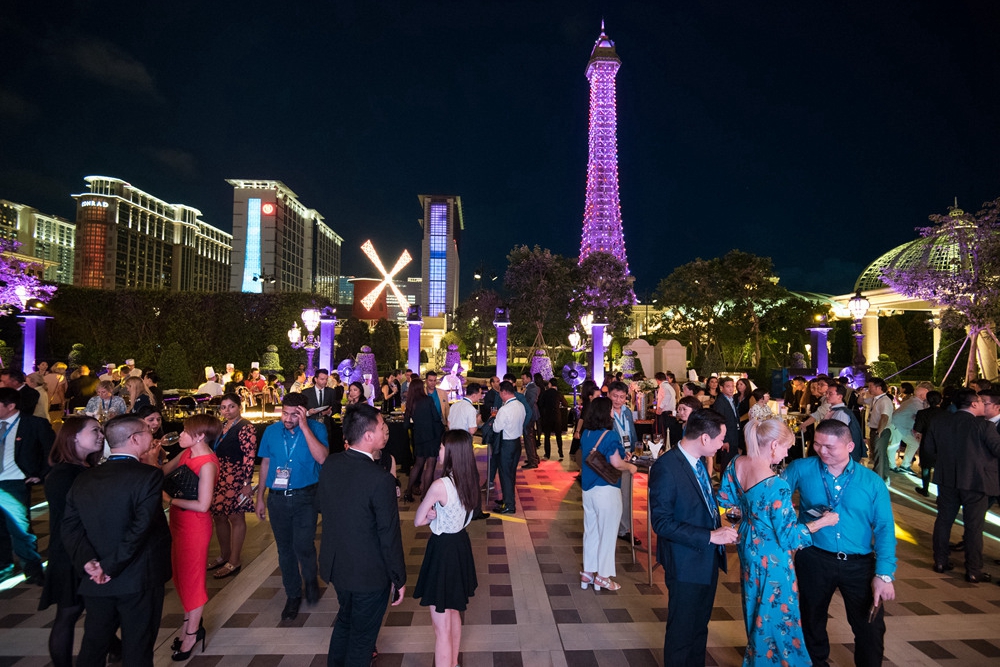 The Ultimate Download "Bon Vivant" event at The Parisian Pool Deck
In 2018, we once again hosted "The Ultimate Download – Asia's Leading Meetings & Events Destination", where guests participated in morning wellness activities on Il Prato. This sprawling outdoor event lawn is adjacent to The Venetian Macao and The Parisian Macao.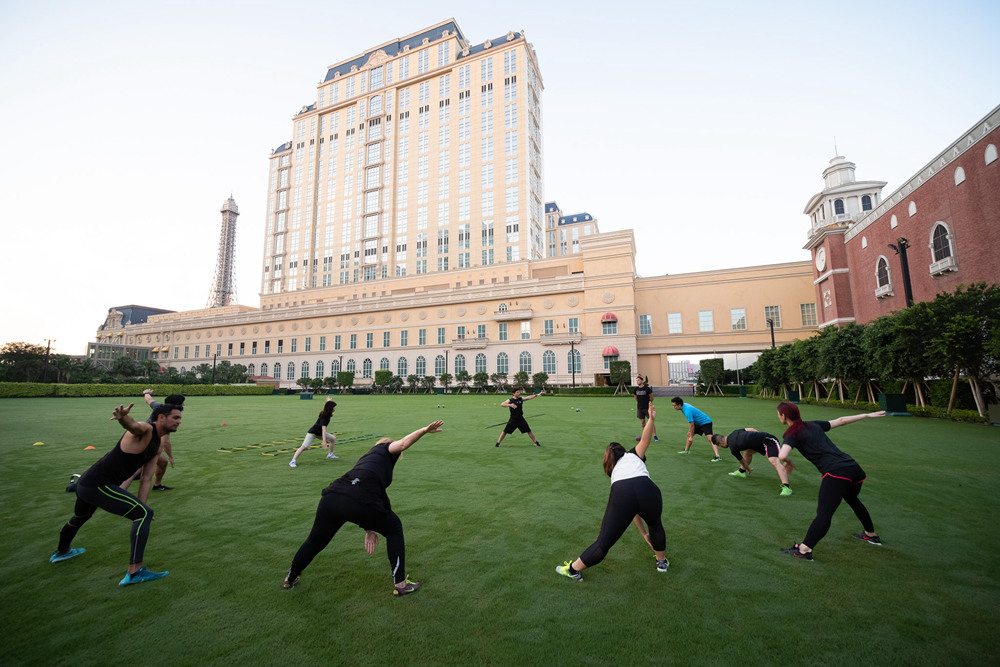 Delegates participate in wellness activities on the Il Prato lawn
Make the most of it all
Just imagine the type of meetings and events you can host at Sands Resorts Macao. You can create gala dinners, product launches, tailor-made teambuilding events and more – either indoors or outdoors – at any one of our spacious venues along the Cotai Strip.

Enjoy 5% off on your master bill, which means discounts on room charges, meeting packages, function room rentals as well as food and beverage at banquets. You are also entitled to a 20% discount on audio-visual equipment rental and 50% off performances by the in-house entertainment team for customised entertainment events and more.

If you book with Meetings Beyond Imagination, both meeting planners and delegates are eligible to enjoy 20% off on dining experiences at selected restaurants; an additional 30 minutes of complimentary spa time and special discounts at select retail outlets throughout Sands Resorts Macao. You may also book any one of our seven hotels: The Venetian® Macao; The Parisian Macao; Four Seasons Macao, Cotai Strip; The St. Regis Macao; Sheraton Grand Macao; Conrad® Macao, Cotai Central or Holiday Inn® Macao, Cotai Central.

Regardless of which hotel you choose, you can enjoy a variety of value-added benefits, including entertainment, leisure activities and audio-visual technical support. Our designated event service teams will look after you every step of the way with customised support and fabulous entertainment to ensure your event is a success.

Offer valid for bookings between now and December 31, 2019. All benefits are eligible for meetings held on or before December 18, 2020 at Sands Resorts Macao.
For more details, please visit:
SandsResortsMacao.com/en/MeetingsBeyondImagination