Discover CNY in Macao
Discover CNY in Macao
Sands Resorts Macao is celebrating the Year of the Rat with a series of celebration activities, surrounding with traditional decorations, and bringing Chinese New Year edition light and sound spectacular show, to bless the New Year.
3D light and sound spectacular CNY Edition
Sands Resorts Macao brings back its signature 3D light and sound spectacular show with CNY edition, projecting colorful and festive theme pattern and scene onto the Venetian Macao's 43,000-square-feet façade.

Show Time: 6 p.m. to 10:30 p.m. (every 30 minutes)
Venue: The Venetian Macao Lagoon
The Eiffel Tower Grand Illumination CNY Show
The Parisian Macao Eiffel Tower will also be performed Grand Illumination Show with Chinese New Year edition, with stunning red and gold, pink and white and "starlight" themes.

Show Time: 6:15 p.m. to midnight (every 15 minutes)
Venue: Eiffel Tower, The Parisian Macao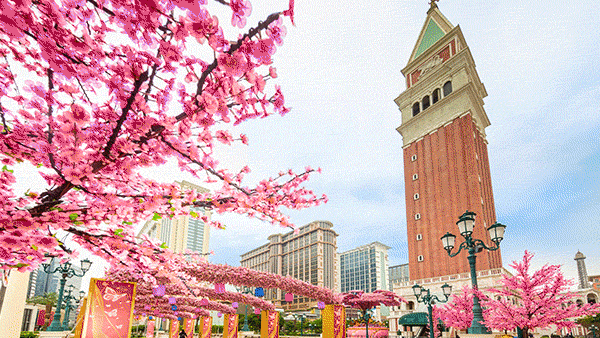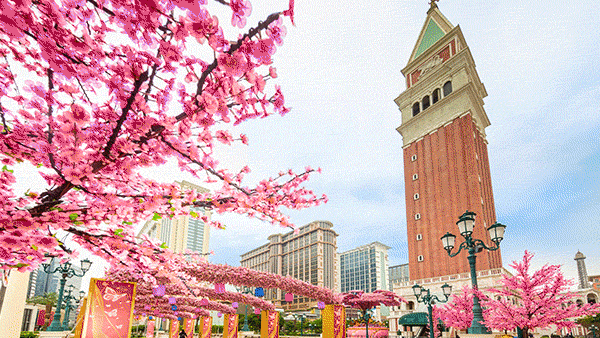 Venetian Macao & Parisian Macao
At The Venetian® Macao visitors will be delighted by stunning Chinese New Year decorations throughout the lagoon area including a glorious Peach Blossom Tree and Welcome Arch, to greet the guests with prosperity.
Meanwhile at The Parisian Macao, visitors could enjoy a blooming festival and new outdoor decorations throughout The Parisian Forecourt and Eiffel Tower offering prefect photo opportunities. The centerpiece will be an extraordinary giant lantern with blooming flower at the rotunda lobby.
A Sumptuous Chinese New Year Feast
This Chinese New Year Sands Resorts Macao and Sands® Macao are inviting diners to celebrate the Year of the Rat with a wide range of delicious menus and dining promotions at The Venetian® Macao, The Parisian Macao, Sands® Cotai Central and Sands Macao's award-winning restaurants.
SEE DETAILS
Black Pearl Degustation Menu
Four Sands Resorts Macao restaurants have been recognised in the influential Meituan Dianping 2020 Black Pearl Restaurant Guide awards.
SEE DETAILS
Buffet Pass
The Doges ruled Venice for centuries, building the city's incredible landscape and eating like kings. Get a taste of the royal lifestyle for a day with our exclusive Buffet Pass.
SEE DETAILS
Prada Pop Up for CNY
Prada unveils a new pop up for Chinese New Year inside Shoppes at Four Seasons in Macao from 9 January to 8 March 2020. The total area covers approximately 80 square meters.

Date: 9 January - 8 March 2020
Address: FSK8, Level 2, Shoppes at Four Seasons, Macao SAR
SEE DETAILS
Festive Offers
Come and enjoy shopping with the latest FW collections and special offers only at Sands Shoppes Macao! Sands Shoppes Macao is the largest mall in Macao with over 850 brands – so this Winter whether you are looking for something for your family, your friends or something special for yourself, Sands Shoppes Macao has it all covered!
SEE DETAILS
Shop $50,000 and Stay at Four Seasons Hotel
Simply spend MOP50,000 or above at Shoppes at Venetian, Shoppes at Four Seasons, Shoppes at Cotai Central and Shoppes at Parisian to earn a complimentary stay at Four Seasons Hotel Macao, Cotai Strip. Shop and stay to treat yourself a luxury shopping experience!
SEE DETAILS
teamLab SuperNature Macao
With cavernous ceilings 8 metres high throughout, the space will be transformed by teamLab into an extremely complex, three-dimensional world with varying elevations filled with ever-changing, immersive artworks. The interactive experience is now under construction and is set to open in March 2020 and will unveil entirely new pieces.
SEE DETAILS
Mind Hacker
No secret is safe from Jan, aka the 'Mind Hacker', who has astonished and delighted audiences across Asia over the last 15 years with his skills in revealing their deepest secrets. He uses psychology, micro-emotions and hypnosis, even looking at a volunteer's breath, pulse and eye movements. Or does he simply read your mind?
SEE DETAILS
The Wynners
Adored across Asia and with Chinese communities around the world, The Wynners have recruited fans across multiple generations since forming in 1973. In those 47 years they have produced numerous superb albums, performed huge concerts and made TV shows and movies. While the members have gone on to have successful solo careers, the band has never broken up, occasionally reforming for sold-out concerts.
SEE DETAILS
Enjoy Your Stay in Our New Luxurious Suite
Whether it's a family holiday, a romantic getaway or an adventure with friends, make your visit to Macao truly unforgettable by staying in a suite. Sands Resorts Macao offers a fabulous choice of new, luxuriously appointed suites at our world-class hotels.
SEE DETAILS