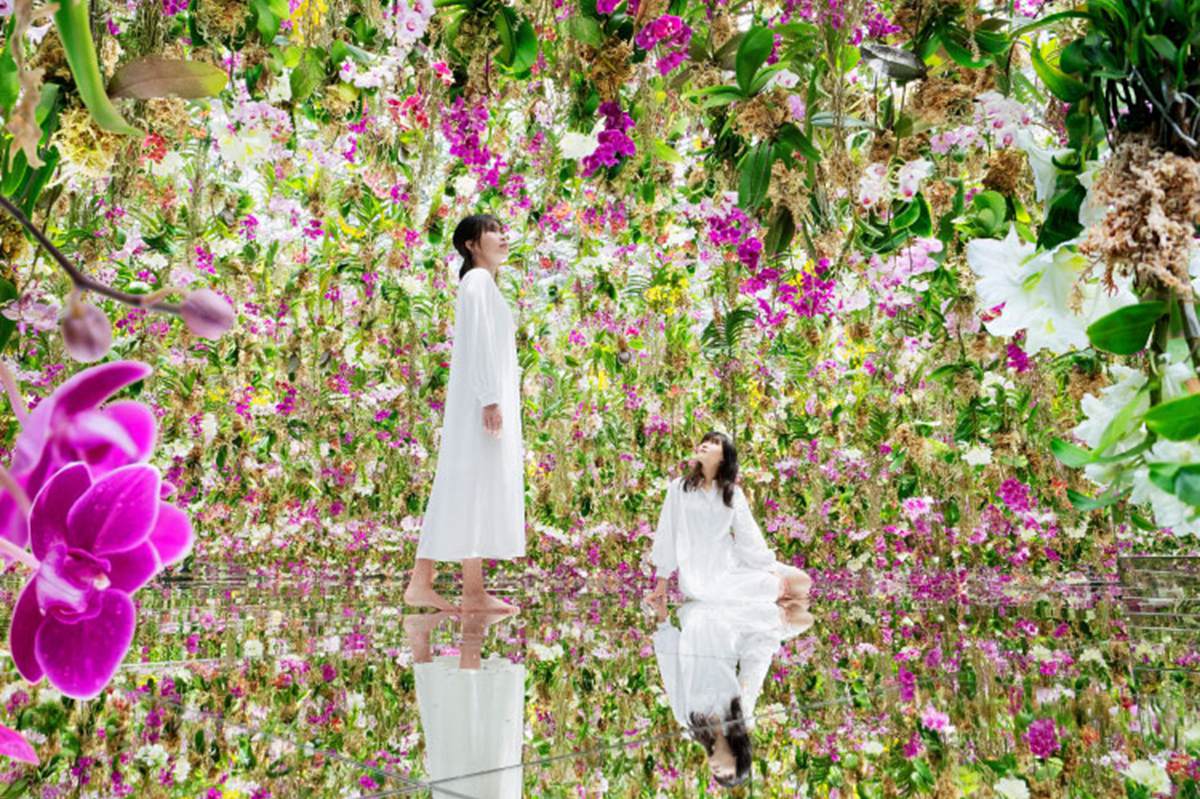 10:00am – 10:00pm daily (last entry 9:15pm)
*Closes on 30 Jun 2020 and every 2nd and 4th Tuesday of each month.
Cotai Expo, The Venetian Macao
teamLab
SuperNature Macao
teamLab SuperNature Macao
Immerse the Body, Create with Others, and Become One
teamLab SuperNature is an extremely complex, three-dimensional interactive space with varying elevations that spans 5,000 square meters and is comprised of enormous 8-meter-tall works by art collective teamLab. It is a "body immersive" museum centered around a group of artworks that aim to explore new perceptions of the world and the continuity between humans and nature.

People immerse their bodies in massive art with others, influencing and becoming one with the art. Through the experience of transcending the boundaries between the body and the artwork, people redefine their perception of the boundaries between the self and the world, and thereby recognize the continuity between humans and the world.

Immerse the body in a complex, three-dimensional world, create a world with others, and become one with that world.
Notice of Museum Reopening & Measures to prevent the spread of COVID-19

Dear Visitors,

In accordance with the requirements of the Shanghai Municipal Administration of Culture and Tourism for the prevention and control of COVID-19 outbreak, teamLab Borderless Shanghai is implementing all necessary measures and is ready to reopen to the public on March 27, 2020. During this period, the museum's maximum capacity of visitors is limited to 50% of the regular number, and the museum hours will be temporarily shortened.

Please follow the instructions below when you visit teamLab Borderless Shanghai;

- Please wear a mask all the time.

- The museum staff will take your body temperature before entry. If you have any symptom of illness, such as fever (37.3℃ or higher) or coughing, you will not be allowed to enter.

- After you purchase your ticket, please reserve your visit (date/time) via the museum's official WeChat account. One mobile number can be used for only one reservation a day. Please also fill in your ID card number. When entering the museum, staff will check your reservation information.

- Please present your ID or passport, the reservation QR code and the real time "Shanghai QR Code" for entry. Only the GREEN "Shanghai QR Code" is allowed to enter.
* The "Shanghai QR Code" is available on the city's health care Cloud and 随申办 apps or through WeChat and Alipay. Please visit here for more info.

- Please cooperate with the on-site real name registration.

- Please keep at least 1 meter from other visitors while in queue.

- Please keep at least 1.5 meter from other visitors when you are in the museum.

Thank you for your understanding and cooperation. Enjoy your visit!

teamLab Borderless Shanghai

About teamLab
teamLab (f. 2001) is an international art collective, an interdisciplinary group of various specialists such as artists, programmers, engineers, CG animators, mathematicians and architects whose collaborative practice seeks to navigate the confluence of art, science, technology, and the natural world.

teamLab aims to explore the relationship between the self and the world and new perceptions through art. In order to understand the world around them, people separate it into independent entities with perceived boundaries between them. teamLab seeks to transcend these boundaries in our perception of the world, of the relationship between the self and the world, and of the continuity of time. Everything exists in a long, fragile yet miraculous, borderless continuity of life.

teamLab's works are in the permanent collection of the Art Gallery of New South Wales, Sydney; Art Gallery of South Australia, Adelaide; Asian Art Museum, San Francisco; Asia Society Museum, New York; Borusan Contemporary Art Collection, Istanbul; National Gallery of Victoria, Melbourne; and Amos Rex, Helsinki.

All images courtesy of teamLab