2023 Sands Shopping Carnival
The much-anticipated Sands Shopping Carnival is coming back this summer!
Date: July 20 – 23, 2023 (Invitation-only preview session on July 20; Open to the public from July 21–23)
Venue: Cotai Expo Halls A and B, The Venetian Macao
Opening Hours: 12:00pm – 10:00pm
Free Parking Venue: Cotai Expo Halls C & D, The Venetian Macao and guest carparks at Sands Resorts Macao
Event Details
Extension Events
Highlighted Offers
The F.I.T. Programme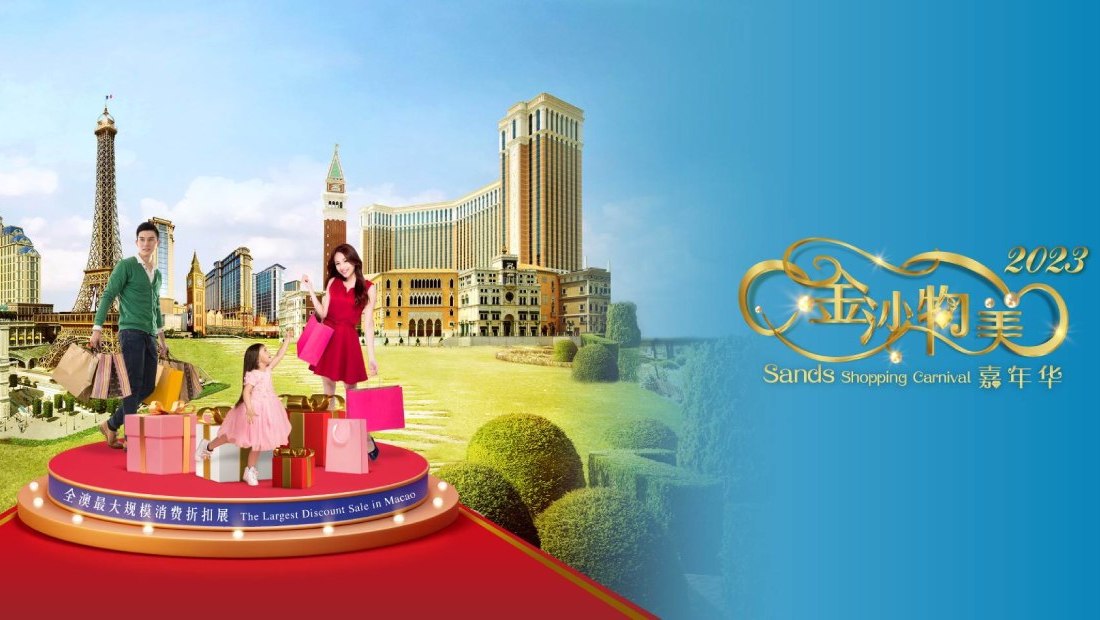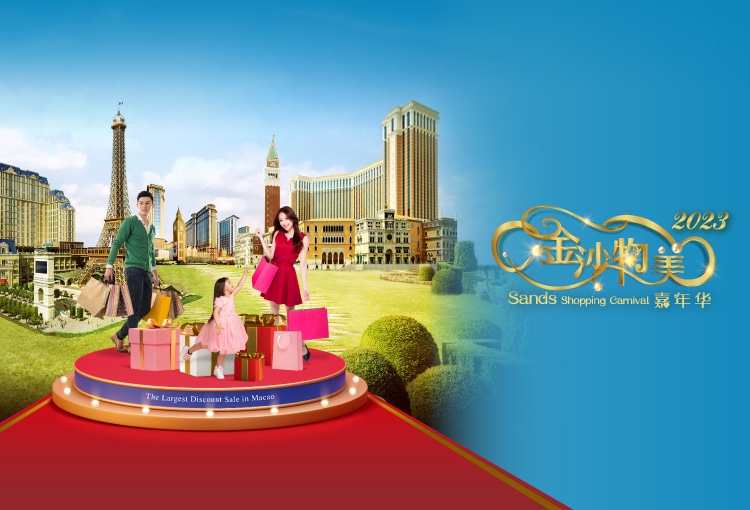 Event Details
Since 2020, Sands China has organized the annual Sands Shopping Carnival – the largest discount sale event in Macao – in cooperation with the Macao Chamber of Commerce, in an effort to boost the local economy, provide a free business platform for local SMEs and Sands retailers, and create business opportunities together. The carnival has attracted a total of 310,000 visitors over the past three years and has become one of the signature shopping events in Macao to date.

Back by popular demand, the Sands Shopping Carnival will be held at Hall A and B of The Venetian Macao's Cotai Expo from July 20 to 23 this year, featuring over 580 booths of international brands and Macao specialties where visitors can enjoy special offers from international brands up to 90% off.

The Sands Shopping Carnival will bring under one roof various offerings including mega food court, Karaoke King Singing Competition, Little Master Chef Workshop, and large play-and-fun facilities and activities for children, including inflatable slides and game booths, plus the newly added K-POP Dance Competition. With all these highlights, the carnival will definitely be a spectacular event full of fun entertainment and shopping delights for people of all ages!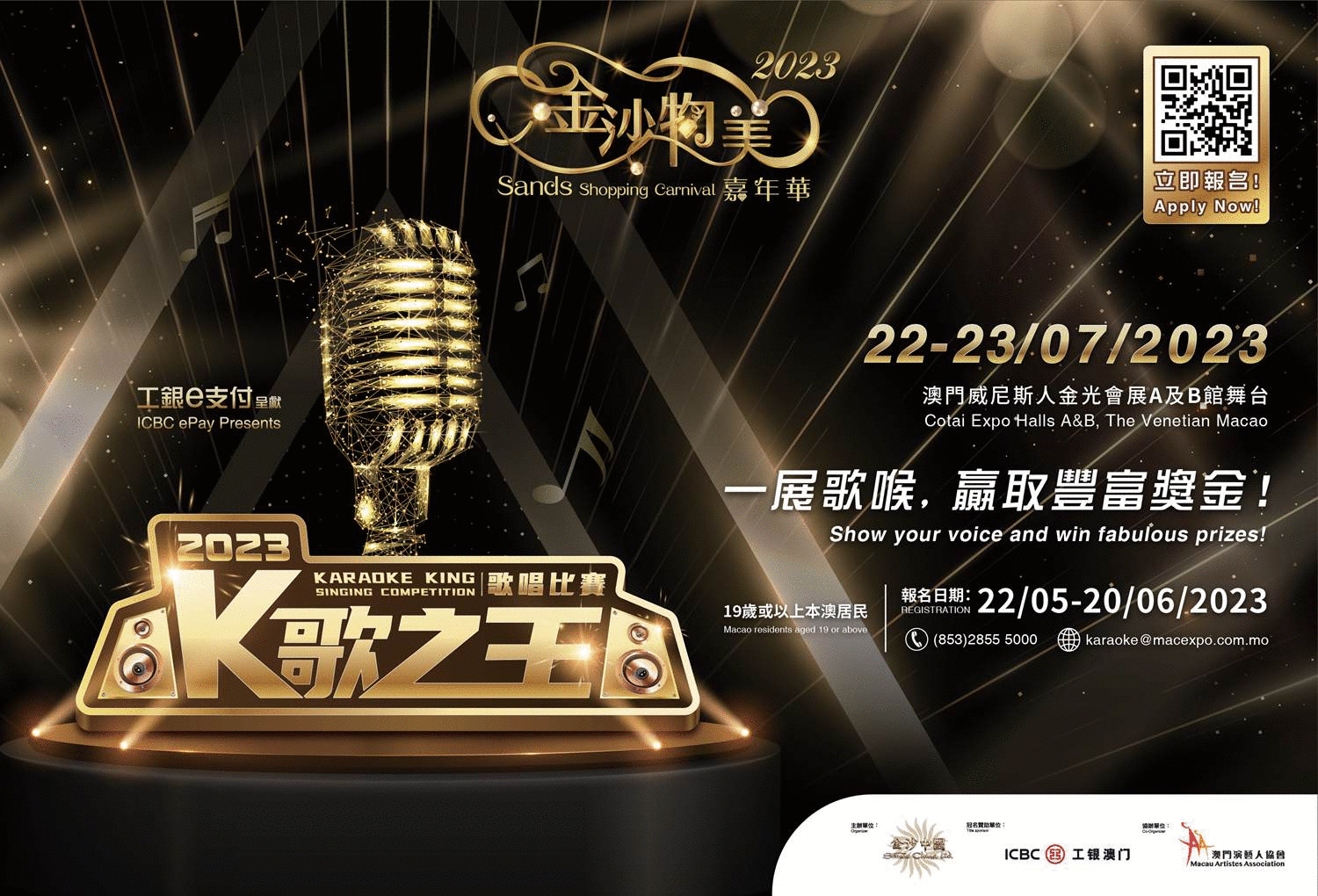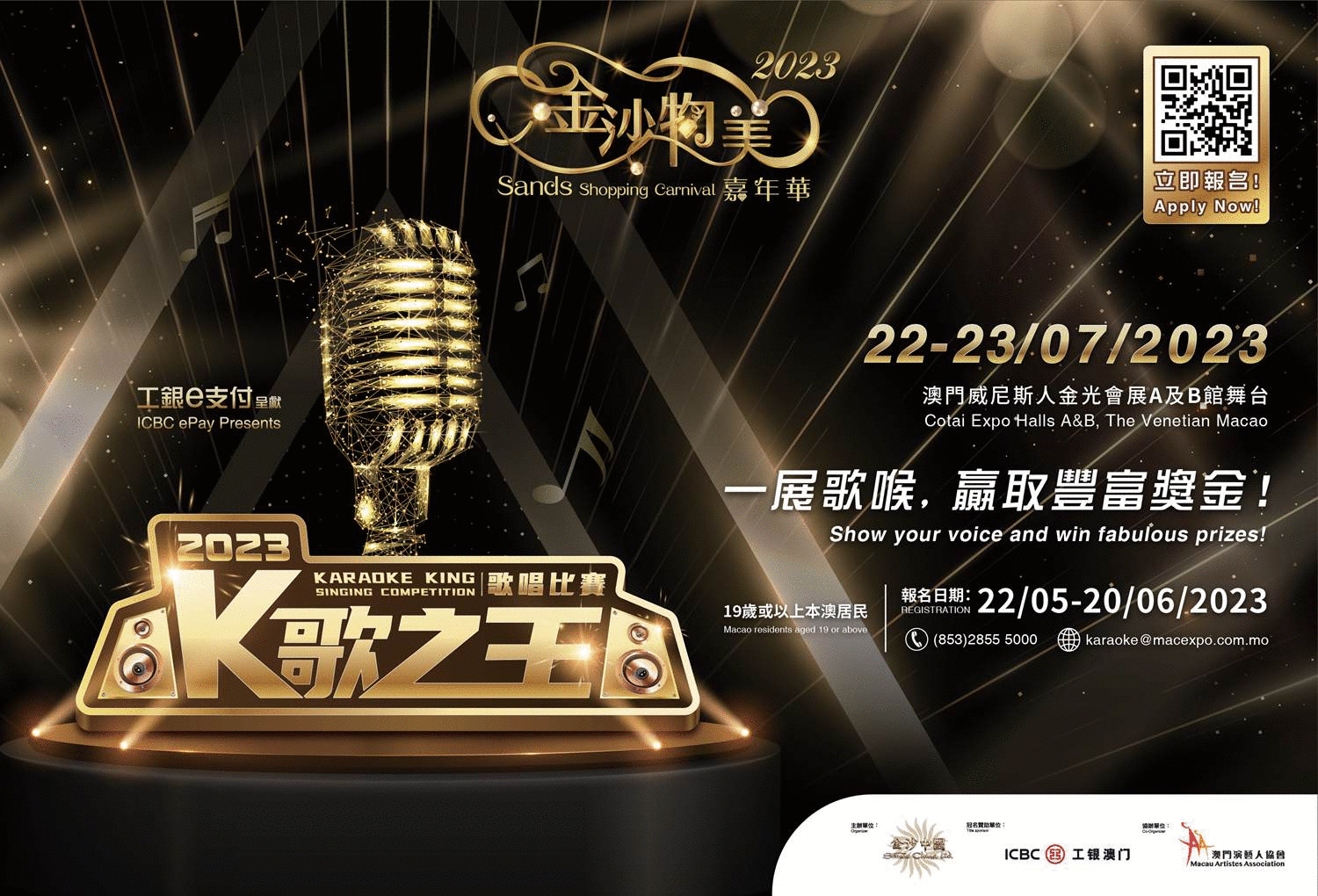 Come to the 2023 Sands Shopping Carnival to enjoy shopping, leisure, entertainment and incentive experiences. It's all under one roof, so get away from the heat and enjoy a fun and memorable weekend!

ICBC ePay Presents: Karaoke King Singing Competition 2023
Attracting around 600 participants to date, the Karaoke King Singing Competition has been a popular activity for the last three years. This year, the contest is once again open to local residents for participation. Come sing for a chance to win great prizes!

Competition Dates:
Preliminary Round – 22 July 2023, 15:00 – 18:00
Final Round – 23 July 2023, 16:00 – 18:00

Prizes:
Champion: trophy + MOP 10,000 cash
First Runner-up: trophy + MOP 5,000 cash
Second Runner-up: trophy + MOP 3,000 cash
Finalist Awards: certificates for 7 finalists

Banks of Communications Presents: K-POP Dance Competition 2023
Korean pop culture has become popular all over the world in recent years. The combination of K-POP music and dance has led to a huge new wave of entertainment, and K-POP dance has become an especially popular culture among the young generation. To promote this uplifting culture and provide young enthusiasts with a showcase platform, the Sands Shopping Carnival 2023 is bringing the brand-new K-POP Dance Competition 2023, open to participants ages 18 or below to compete in teams and shine on stage.

Competition Date: 23 July 2023, 13:00 – 15:30

Prizes:
Champion: medal + MOP 5,000 cash
First Runner-up: medal + MOP 3,000 cash
Second Runner-up: medal + MOP 2,000 cash

BOC Smart Kids Presents: Little Master Chef Workshop
Led by Sands China's food and beverage team for three consecutive years, the Little Master Chef Workshop has been one of the most popular family activities of the carnival and has attracted participation from nearly 1,000 children in total. The workshop will be held once again this year free of charge with on-site registration. Sign your children up to unleash their talent and make them little master chefs!

Event Dates: 20 – 23 July 2023
Venue: The Venetian Macao Cotai Expo Hall A & B
Session Capacity: 40 children (each child can be accompanied by up to 2 family members)
Eligibility: children ages 4 – 12 (children under 8 years old must be accompanied by at least one family member)
Registration Method: on-site registration, which ends 15 minutes before the start of each session
Workshop Theme: Sands China's celebrity chefs will personally demonstrate and teach participants to make exquisite food items, with different themes every day. The finished food items can be enjoyed on the spot.
Workshop Schedule:
20 Jul, 2023 (Thursday)
| | | |
| --- | --- | --- |
| | Workshop | Time |
| Session 1 | Madeleine decorating | 13:00 |
| Session 2 | Chocolate cookie sandwich decorating | 14:30 |
| Session 3 | Handmade sushi | 17:30 |
| Session 4 | Vietnamese spring rolls | 19:30 |
21 Jul, 2023 (Friday)
| | | |
| --- | --- | --- |
| | Workshop | Time |
| Session 1 | Madeleine decorating | 13:00 |
| Session 2 | Chocolate cookie sandwich decorating | 14:30 |
| Session 3 | Handmade sushi | 17:30 |
| Session 4 | Vietnamese spring rolls | 19:30 |
22 Jul, 2023 (Saturday)
| | | |
| --- | --- | --- |
| | Workshop | Time |
| Session 1 | Chocolate cookie sandwich decorating | 14:30 |
| Session 2 | Cupcake decorating | 16:00 |
| Session 3 | Handmade sushi | 17:30 |
| Session 4 | Vietnamese spring rolls | 19:30 |
23 Jul, 2023 (Sunday)
| | | |
| --- | --- | --- |
| | Workshop | Time |
| Session 1 | Madeleine decorating | 13:00 |
| Session 2 | Handmade sushi | 17:30 |
| Session 3 | Vietnamese spring rolls | 19:30 |
Note:
1. Registration begins 45 minutes prior to each workshop.
2. Enrollment on-site, first come first served basis.
3. Details are subjected to on-site arrangement.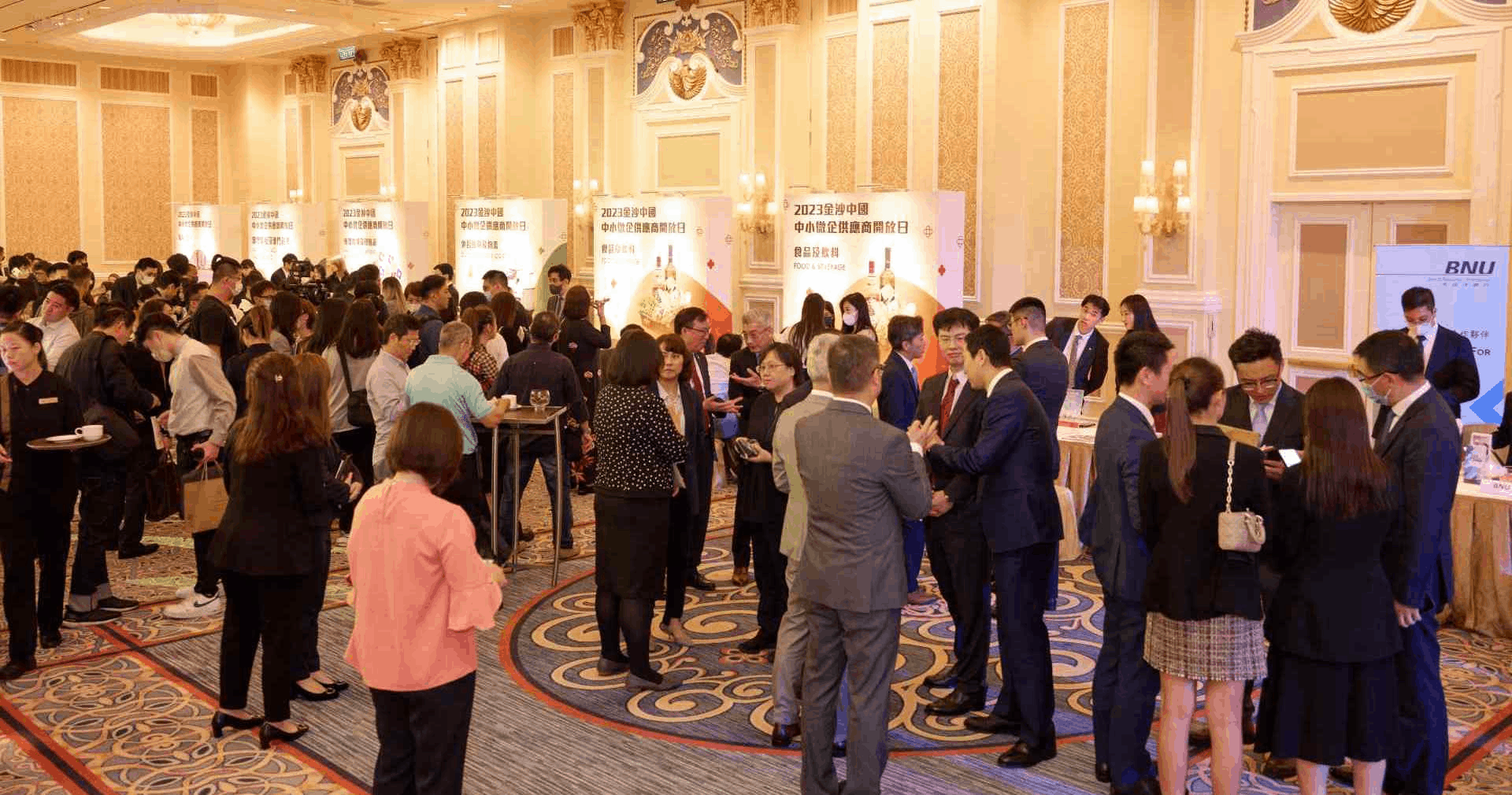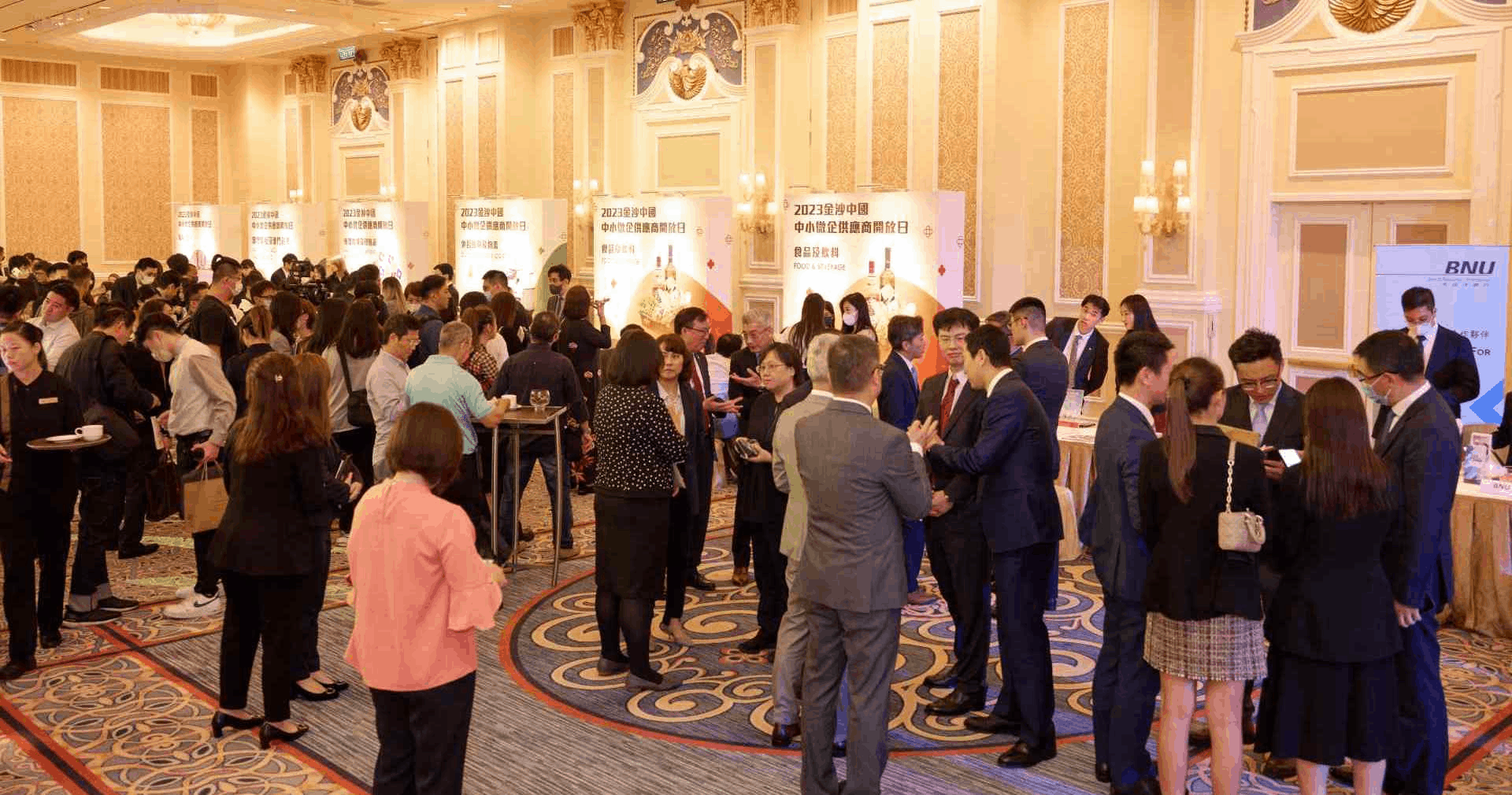 Sands China strongly believes that the company bears an important responsibility in the development of Macao, and we have been devoting resources to the local community for more than a decade, and we are committed to promoting the development of local enterprises.
We first launched Sands China's Local Small, Medium and Micro Suppliers Support Programme in 2015, aiming to facilitate opportunities for local suppliers to meet international standards, in support of three types of local businesses jointly identified with the Macao Chamber of Commerce: small and micro enterprises, "Made-in-Macao" companies, and Macao young entrepreneurs.
As part of that initiative, we further launched the F.I.T. programme for local Macao SME suppliers in April 2017. With this programme, the company seeks to increase its procurement spend on all three aforementioned types of local suppliers.
F.I.T. is comprised of three pillars: Financial Support, Invitational Matching, and Training and Development.
• Financial Support
A Sands China Young Entrepreneur Advance Payment Programme was created to help local young entrepreneurs who have limited financial capacity to run their business. It targets Macao young entrepreneurs with a staff size of 15 or below, providing them with a 30 per cent advance payment on purchase orders. Sands China successfully cooperated with local banks to launch this special financial support programme mainly for Sands China's SME suppliers.
• Invitational Matching
Sands China hosts targeted trade shows that invite local SMEs to go beyond simply meeting potential Sands China buyers. These invitational matching sessions take the usual procurement process a step further by providing a platform for local SMEs to present and demonstrate their products and services to potential users and buyers at Sands China properties, with the company's full support. The goal is to enhance communication between vendors and users, and to improve the procurement success rate.
• Training and Development
The Sands Procurement Academy, inaugurated in June 2017, aims to develop local SME suppliers by sharing business knowledge and skills, helping them gain experience and capacity to meet international standard. Four types of local SME suppliers were initially targeted – small and medium-sized enterprises (SMEs), micro-enterprises, Macao young entrepreneurs, and "Made-in-Macao" enterprises – with the programme now open to all local SMEs.
The academy offers tailor-made practical training modules to local SMEs, presenting them with a certificate upon graduating from the academy. Graduating suppliers are given preferential procurement under otherwise equal circumstances. The training programme is the first of its kind in the industry, with over 451 SME suppliers having participated to date, with 417 graduates and counting.
Enrollment for 13th Intake of Sands Procurement Academy
The 13th intake of the academy will commence at the end of September 2023. Lecturers with various areas of expertise facilitate the modules, which cover 6 topics: quality assurance, Macau labor law fundamentals, effective warehouse operations, supplier code of conduct, procurement contract basics, procurement process and system overview, and logistics management.
Enrollment Period: From now till 30 Aug 2023
Start Date: End of Sep 2023; six lectures in total, one lecture per week
Location: The Venetian Macao's Adelson Advanced Education Centre
Capacity: 50 pax
Enrollment Method: Email the following information 1) Company Name 2) Contact Person 3) Contact Number to eva.wong@sands.com.mo before the registration deadline. Course details will be shared by email.