Sandy Lam Concert at The Venetian Macao's Cotai Arena
---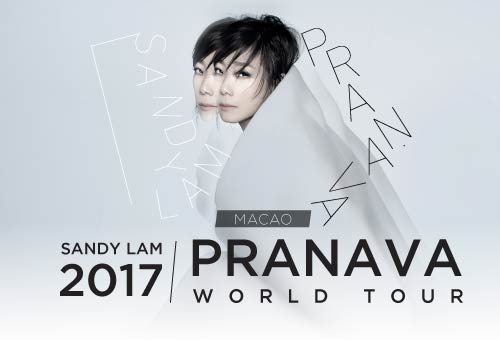 Sandy Lam to Perform at
The Venetian Macao's Cotai Arena on March 4, 2017
Hong Kong diva to be joined by top international musical talent for world-class live experience '2017 Sandy Lam PRANAVA World Tour – Macao'
(Macao, Feb. 6, 2017) – Hong Kong's original pop princess, Sandy Lam, will bring her highly-anticipated 2017 Sandy Lam PRANAVA World Tour – Macao concert to the Cotai Arena at The Venetian® Macao on March 4, 2017. Tickets go on sale Feb. 7, 2017, at all Cotai Ticketing box offices.

A talent from an early age, Lam started her career in 1985 as a DJ with Commercial Radio Hong Kong before she was spotted for her singing ability, going on to have huge hits with popular Cantonese songs "Gray", "Still", "Crazy" and many others. Most recently she appeared as a contestant on China's hit TV singing competition "Singer 5".

As a music industry veteran she has won many awards in the course of her career, including Best Regional Performing Female Artist, Best Album, Best Female Vocalist, Asia Pacific Most Outstanding Female Artist, and an honorary music award for her contribution to the music industry.

Pranava means "cosmic sound" in Sanskrit and for the 2017 Sandy Lam PRANAVA World Tour – Macao concert, also represents an explosion of celestial energy. With world-class international musicians, outstanding arrangements, stage design, choreography and costumes, as well as a full repertoire of classic love ballads and upbeat dance tracks, fans can prepare to be both energised and enlightened at 2017 Sandy Lam PRANAVA World Tour – Macao!
Ticketing details:

Event 2017 Sandy Lam PRANAVA World Tour – Macao

Date and Time March 4, 2017 (Sat), 8 p.m.

Venue Cotai Arena, The Venetian Macao

Ticket Prices
MOP/HKD 1,380 (VIP Reserve)

MOP/ HKD 980 (A Reserve)

MOP/ HKD 780 (B Reserve)

MOP/ HKD 580 (C Reserve)

MOP/ HKD 380 (D Reserve)
Ferry Packages Add MOP/HKD 108 to ticket price for a round-trip Cotai Water Jet ferry ticket between Hong Kong and Macao

Ticketing Outlets Cotai Ticketing
· Online: www.cotaiticketing.com
· Box offices:
o The Parisian Macao - Main Lobby Box Office (Level 1) and Parisian Theatre Box Office (Level 5)
o The Venetian Macao – Cotai Arena and Main Lobby box offices
o Four Seasons Hotel Macao – The Plaza™ Macao box office
o Sands® Macao – Level 1 box office
o Sands® Cotai Central – Sheraton Main Lobby and Holiday Inn Main Lobby box offices
· Phone:
o Macao: +853 2882 8818
o Hong Kong: +852 6333 6660
o China toll-free: 4001 206 618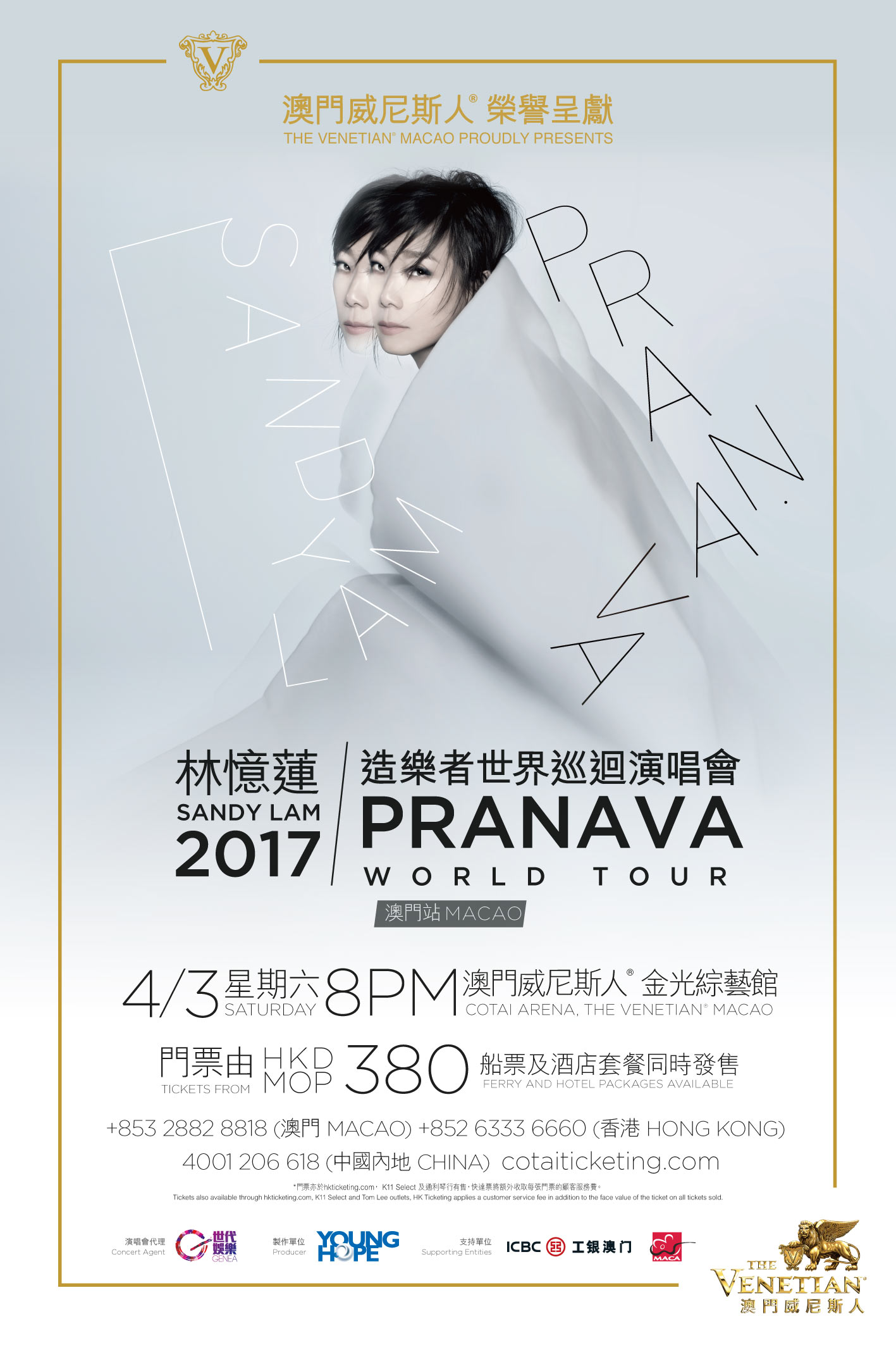 ---
Entertainment at Sands China Properties
Sands China Ltd. has as a clear vision to establish Macao as Asia's top entertainment destination.

The 15,000-seat Cotai Arena and 1,800-seat Venetian Theatre are the only venues in Asia ranked in Pollstar's Top 100 Worldwide Arena Venues and Pollstar's Top 200 Worldwide Theatre Venues based on ticket sales. It is the top entertainment destination in southern China, hosting the world's and the region's biggest names in music, sports and awards shows. Superstars frequently choose the venue as the starting point of their Asian tours.

The 1,800-seat, multi-purpose Venetian Theatre is one of the most luxurious entertainment venues in greater China. Featuring ushers in black tie, champagne service, gourmet food and beverage items and other unique, premium amenities, it offers an intimate, luxurious and exclusive venue experience. The Venetian Theatre is playing a key role in bringing the best in international and Chinese entertainment to Macao, with a theatre experience like no other in the region.

The 650-seat Sands Theatre regularly features internationally-renowned singers, performers and artists of the highest calibre. From traditional Chinese-costumed dance to modern performances, everything from Western rock to Cantonese pop is covered.

The 1,200-seat, purpose-built Parisian Theatre is Sands China Ltd's latest entertainment venue. The Paris-style theatre offers an elegant experience for world-class entertainment of all kinds.

Offering world-class diversity and quality, Sands China Ltd.'s next generation of live venues is ushering in a new era of entertainment in Macao.

For information about upcoming shows and events, visit https://www.venetianmacao.com/entertainment.html.
Media contacts:
Public Relations, Venetian Macau Limited
Lily Cheng
Tel: +853 8118 2013
Email: lily.sw.cheng@sands.com.mo

Felicia Im
Tel: +853 8118 2296
Email: felicia.im@sands.com.mo