Latest Group of University Students Graduate from Sands China's Integrated Resort Internship Programme
Company continues support of youth development
(Macao, Feb. 27, 2019) – Sands China Ltd. recently honoured the latest group of university students to complete its Integrated Resort Internship Programme, as the company continues to support the development of youth by providing professional opportunities for students and graduates.

Sands China created the Integrated Resort Internship Programme to give local university students opportunities to work full-time at its integrated resorts on a short-term basis while earning academic credit. Students intern in one of 18 non-gaming departments such as concierge, entertainment, e-commerce, food and beverage, front office and others, including IT and strategic analysis – the two most recent departments to join the programme.

Students in the programme gain valuable integrated resort experience that is hard to find in the traditional hotel industry. Over 340 students have interned in the programme to date, including more than 130 in 2018. The most recent batch of students did their internships during the second half of 2018, with 68 interns graduating from the programme in December.

A total of around 200 internship opportunities are being offered in 2019, in partnership with local higher education institutes such as the University of Macau, the Macau University of Science and Technology, the Institute for Tourism Studies, Macao Polytechnic Institute, and others. These opportunities are also available to locals who study in designated overseas institutes and plan to return to Macao.
"Sands China is pleased to utilise our integrated resort model to offer a development platform for university students and graduates to explore their areas of interest while gaining professional experience," said Wen Hongyan, senior vice president of human resources for Sands China Ltd. "Youth are the future of Macao. Our various programmes help them develop skills and further their industry knowledge, and help provide a steady flow of integrated resort professionals to the Macao community."

Graduates of the Integrated Resort Internship Programme are able to take advantage of other Sands China programmes as well. From among the internship programme's most recent graduates, 20 are now either enrolled in the company's Career Experience Opportunities Programme (CEOP) or working full-time, including in Sands China's Fast Track Supervisor/Managerial Programmes.

CEOP is an innovative study platform designed especially for local university students, allowing them to gain comprehensive and systematic on-the-job training in their spare time. Participants choose between hotel management, catering management and culinary management for their on-the-job training, where they develop career-enhancing skills and knowledge invaluable to their personal and professional development. Based on their training and performance in the programme, students may be given preference for supervisory trainee positions. A total of 20 students are currently enrolled in CEOP, with more than 120 students having participated to date.

The intensive Fast Track Supervisor/Managerial Programmes train exceptional local university graduates to work full-time in non-gaming departments, with a goal of having them reach supervisor-level positions in integrated resort operations or assistant manager positions in food and beverage within four to 18 months. Since the launch of programmes in June 2016, more than 75 graduates have participated. Of those, nearly 30 have been promoted to supervisors – 10 in 2018, and one already in 2019.

Sands China has been collaborating with local universities to accelerate the cultivation of local talent through a variety of programmes for local university students and graduates. These programmes allow participants to be mentored by experienced professionals and learn about the latest trends in the local and international tourism industry. Participants accumulate valuable integrated resort work experience and gain professional skills and knowledge for their future careers. These and other initiatives by Sands China are an effort to support non-gaming diversification and talent development in Macao and the city's development as a world centre of tourism and leisure.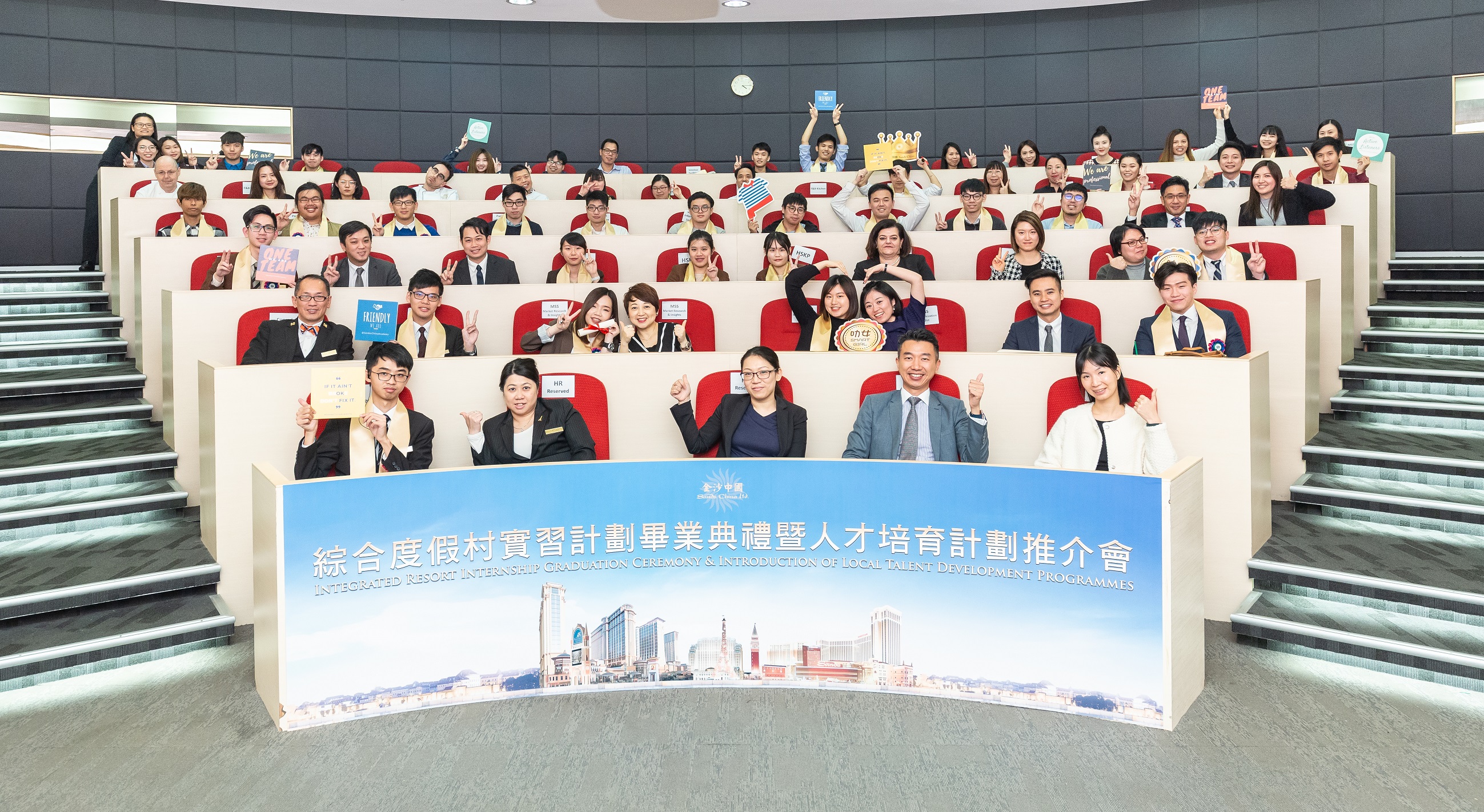 Photo caption: A group of 68 university students graduate from Sands China's Integrated Resort Internship Programme Dec. 27 at The Venetian Macao's Adelson Advanced Education Centre. The programme gives local university students opportunities to work full-time at the company's integrated resorts on a short-term basis while earning academic credit.

###
About Sands China Ltd.
Sands China Ltd. (HKEx: 1928, Sands China or the Company) is a Cayman Islands registered company and is listed on The Stock Exchange of Hong Kong Limited. Sands China is the largest operator of integrated resorts in Macao. The Company's Cotai Strip portfolio is comprised of The Venetian® Macao, The Plaza® Macao, Sands® Cotai Central and The Parisian Macao. The Company also owns and operates Sands® Macao on the Macao peninsula. The Company's integrated resorts contain a diversified mix of leisure and business attractions and transportation operations, including large meeting and convention facilities; a wide range of restaurants; shopping malls; world-class entertainment at the Cotai Arena, The Venetian Theatre, The Parisian Theatre and the Sands Cotai Theatre; and a high-speed Cotai Water Jet ferry service between Hong Kong and Macao. The Company's Cotai Strip portfolio has the goal of contributing to Macao's transformation into a world centre of tourism and leisure. Sands China is a subsidiary of global resort developer Las Vegas Sands Corp. (NYSE: LVS).

For more information, please visit www.sandschina.com.