BACKSTREET BOYS COMING TO THE VENETIAN MACAO THIS OCTOBER WITH THEIR BIGGEST ARENA TOUR IN 18 YEARS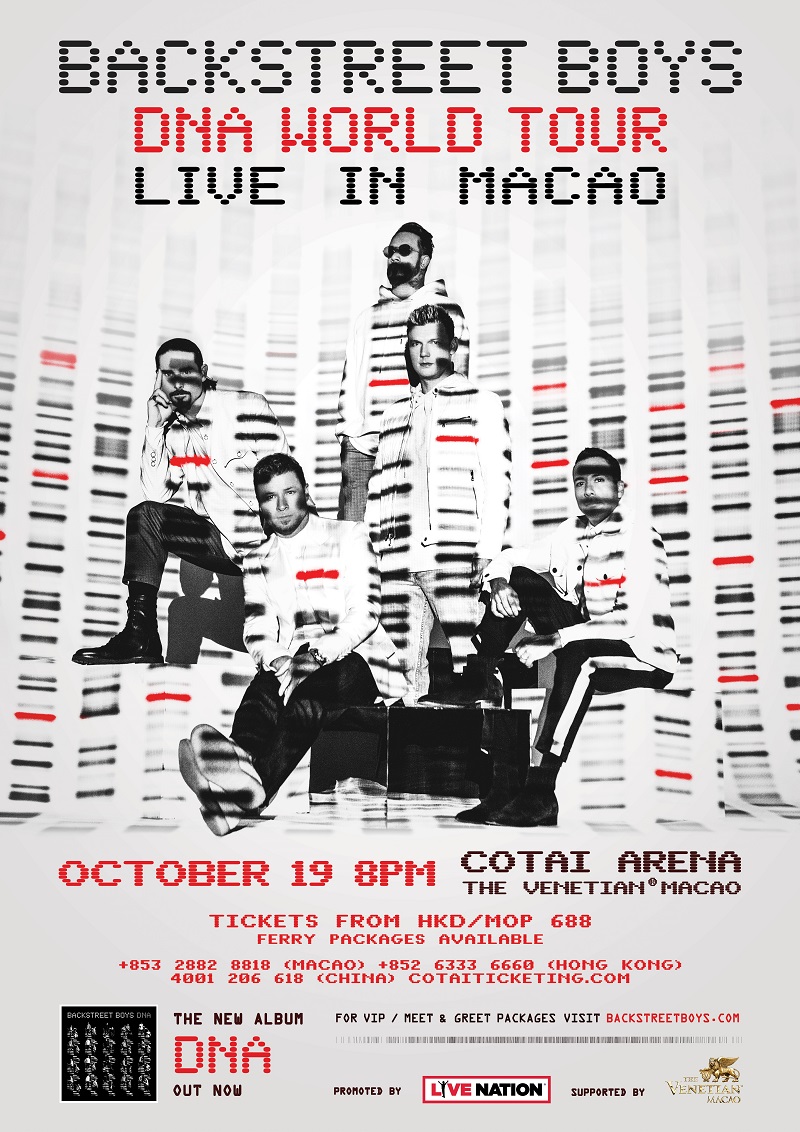 OCTOBER 19, 2019 (SATURDAY)COTAI ARENA, THE VENETIAN® MACAOON SALE APRIL 10, 2019 (WEDNESDAY)

(March 28, 2019 – Macao) – The legendary Backstreet Boys are coming back to Macao with their biggest arena tour in 18 years. Long-awaited The Backstreet Boys DNA World Tour Live in Macao will be staged on October 19, 2019 (Saturday) at The Venetian® Macao's Cotai Arena. Tickets from MOP 688 will be available via Cotai Ticketing on April 10, 2019 (Wednesday) from 10 a.m. For more details, please visit www.cotaiticketing.com.

Backstreet Boys Fan Club pre-sale starts from April 8, 2019 (Monday) 10 a.m. to April 9, 2019 (Tuesday) 11:59 p.m. online. For details on the pre-sale, please visit www.backstreetboys.com.

Live Nation members can purchase tickets ahead from April 9, 2019 (Tuesday) 10 a.m. to 11:59 pm. For ticketing info and membership sign up, please visit www.livenation.hk.

Beginning May 11 in Portugal, the DNA World Tour will then continue to perform across Europe, North America and Asia.

The BSB DNA World Tour follows the release of their latest album "DNA" – the group's 10th studio album which features songs written by Lauv (Charli XCX), Andy Grammer, Stuart Crichton (DNCE) and Mike Sabbath (J Balvin). "DNA" was released in January this year on RCA Records and debuted at No.1 on the Billboard album chart.

"When this group started 26 years ago – and through all the highs and lows of our career – we've had to learn it wasn't about us as individuals but about what's best for the group," says Howie D.

"That's what I love about this album," adds Kevin Richardson. "We were able to bring all of our influences and styles into one coherent piece of work. These songs are a great representation of who we are as individuals and who we are as a group. It's our DNA. We're really proud of that."

"The journey is ongoing with us and there is so much left to do," says Brian Littrell. "We're living the next chapter that hasn't been told yet, and that's exciting."

After 14 months of setting and breaking records in Las Vegas, BSB's residency "Backstreet Boys: Larger Than Life" will come to an end on April 27, 2019. "Vegas has been amazing and these next set of dates are going to be a party," says Howie. "Then it's time for us to visit our fans all over the world."

Don't miss your chance to relive more than 20 years of smash hits including "Quit Playing Games With My Heart", "I Want It That Way", "Everybody (Backstreet's Back)", "Incomplete", "Shape Of My Heart", "Show Me The Meaning Of Being Lonely", "Don't Go Breaking My Heart" and more.

BACKSTREET BOYS DNA WORLD TOUR LIVE IN MACAO
Date & Time October 19, 2019 (Saturday) 8 p.m.
Venue Cotai Arena, The Venetian Macao
Ticket prices Seated – MOP VIP 1488 / 1088 / 888 / 688
Standing – MOP VVIP 2488 / 988
BSB Fan Club Pre-sale April 8, 2019 (Monday) 10 a.m. to
April 9, 2019 (Tuesday) 11:59 p.m.
Live Nation Members Pre-sale April 9, 2019 (Tuesday) 10 a.m. to 11:59 p.m.
Public on sale April 10, 2019 (Wednesday) 10 a.m.
Online Bookings www.cotaiticketing.com , www.macauticket.com
Promoters Live Nation (HK) Limited and The Venetian Macao