HOME > THE SANDS RESORTS MACAO PRESS CENTER >

'Godfather of Huaiyang Cuisine' Chef Zhou Xiaoyan and Eight Five-Star Master Chefs Present Three Nights of Outstanding Regional Chinese Cuisine at Sands Resorts Macao | The Sands Resorts Macao
'Godfather of Huaiyang Cuisine' Chef Zhou Xiaoyan and Eight
Five-Star Master Chefs Present Three Nights of Outstanding
Regional Chinese Cuisine at Sands Resorts Macao

(Macao, November 22, 2019) – Celebrity master chef Zhou Xiaoyan, renowned as "the Godfather of Huaiyang cuisine" and eight Chinese Five-Star Alliance master chefs produced a feast of superb regional cuisine at Sands Resorts Macao as part of its ongoing celebrity chef series to promote and celebrate the best of Chinese food culture.

The first evening of the Chinese Five-Star Alliance Chefs' Dinner, taking place Nov. 21-23, saw Chef Zhou and the eight master chefs present a gastronomic event for 100 guests on the stage of The Parisian Macao's Parisian Theatre, showcasing the nine great cuisines of China. The unique setting and theatre backdrop added an air of exclusivity for the invited guests.

Nine traditional Chinese dishes were prepared, representing the cuisines of Shanghai, Sichuan, Shandong, Liaoning, Anhui, Zhejiang, Guangdong and Huaiyang. Classic dishes from each region were specially chosen for the evening, and innovatively presented for guests to experience all of the unique flavours of China.

Chef Zhou introduced each dish, described its ingredients and what went into the preparation as he actively engaged with the guests. Throughout the dinner guests were also entertained with performances from one of the chefs demonstrating superb knife skills in precisely cutting a piece of tofu while blindfold, as well as a stunning aerial silk dance and enthralling sand painting show.

The outstanding menu included:
Beef aspic duo.

Superior sea bass with morel mushroom and fish maw in clear broth

Stuffed orange with braised hairy crab meat and roe

Crispy chicken with oyster mushroom and pork belly topped with caviar

Stir-fried tiger prawn in sweet and sour sauce with seaweed noodles

Spicy star garoupa in broad bean chili sauce

Handmade tofu with lobster and pork belly in Japanese pumpkin puree sauce

Signature fried rice with JinHua ham, sea cucumber, shrimp, duck gizzard, chicken and Matsutake mushrooms

Double-boiled bird's nest sweet soup with pear and almond

In addition to Chef Zhou, the eight chefs at the event included:
Bao Kefeng – International Master of Culinary Art; China BEST50 Top Chef; Melbourne International Top Chef Charity Awards winner

You Xiaodong – The Golden Chef of China winner; judge of National Cooking Competition

Dong Yuzhen – world championship of cookery champion; international judge of World Cooking Union

Gao Xiaosheng – a top national chef; China's BEST50 Top Chef

Shen Wei – Golden Chef of China winner; China's Top Emerging Chef Award winner; international judge of World Association of Cooks Societies

Shen Zhenghua – China's Master Chef; The Golden Chef of China winner

Ma Qiang – China's Master Chef; The Golden Chef of China winner

Feng Yixiang – China's Master Chef; Yangzhou China Top 30

This is the fourth time Chef Zhou has been invited to oversee special events at Sands Resorts Macao.

"It is a great honour to be again invited to present extraordinary culinary events at Sands Resorts Macao, which will allow more people to experience the essence of Chinese cuisine," he said. "It is through these events that we help support the development of Macao as a hub of food culture, especially as it is currently designated a UNESCO Creative City of Gastronomy."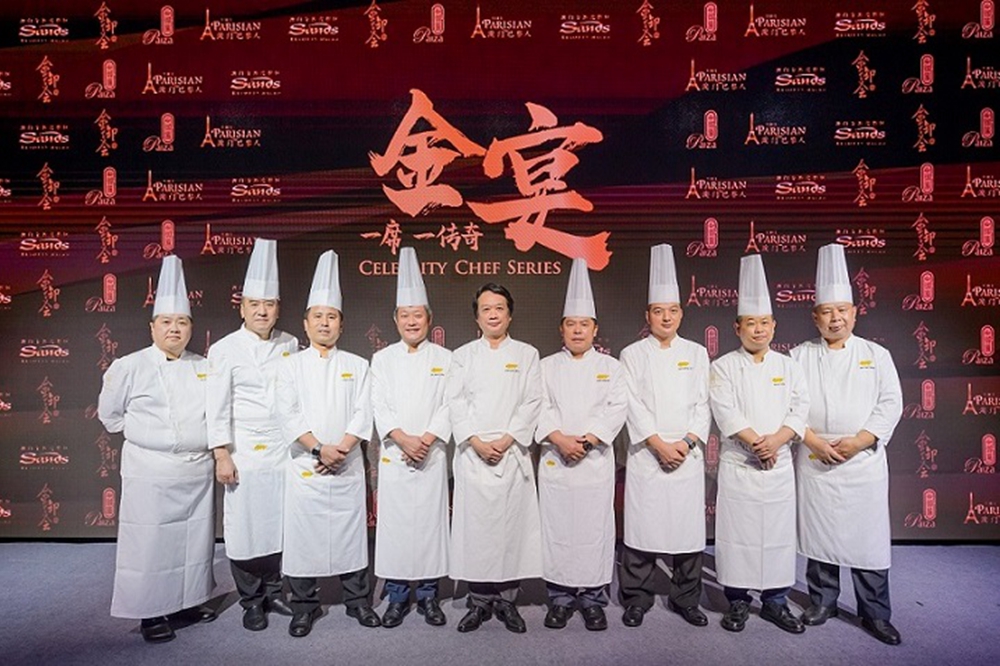 Photo caption: Celebrity master chef Zhou Xiaoyan and eight other renowned chefs prepared nine regional Chinese dishes as part of Sands Resorts Macao's ongoing celebrity chef series.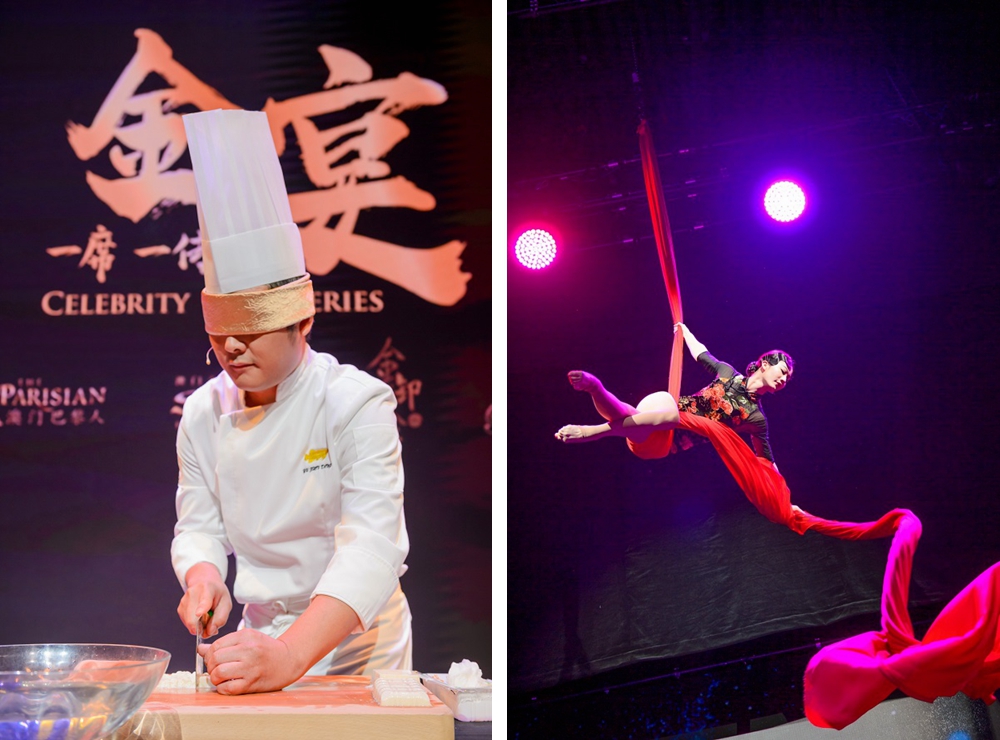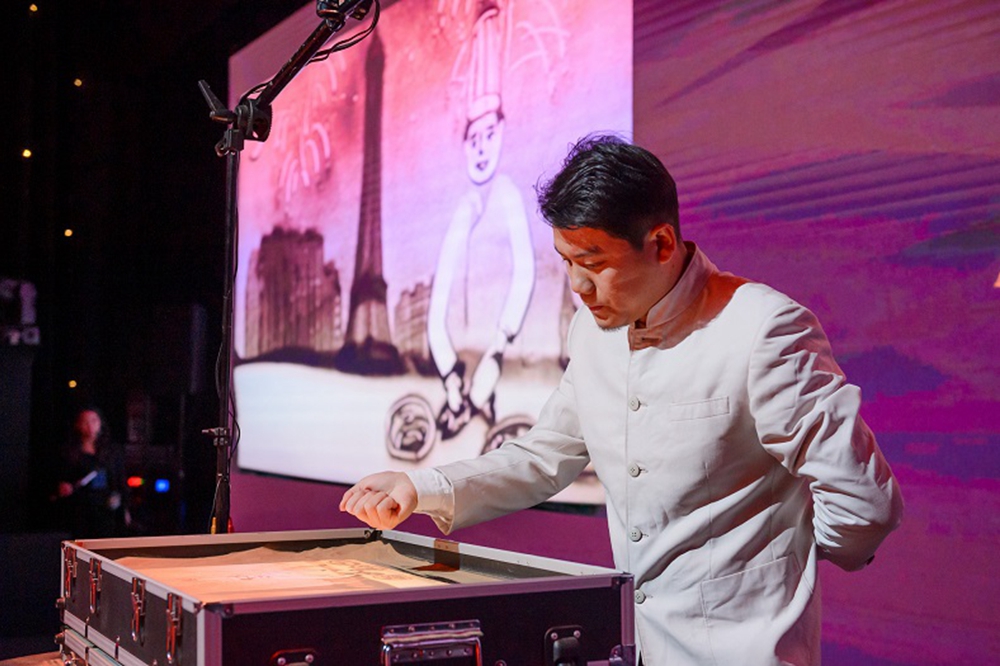 Photo caption: As part of the evening guests were also entertained with performances from chefs performing the "blind cut tofu" act, as well as aerial silk dance and sand painting show.