Macau's first LEGO® Certified Store opens at Shoppes at Venetian
LEGO® Certified Professional build one-of-a-kind Local Landscape LEGO® mosaic
Brings overwhelmed Surprises and Unique Experience to Macau fans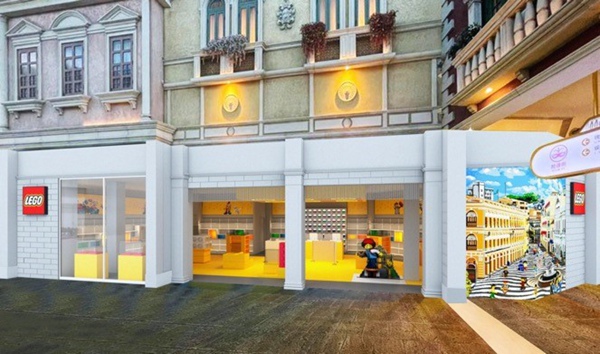 (Macao, Feb. 1, 2021) – LONG AWAITED! The first LEGO® Certified Store operated by Kidsland International Holdings Limited will be officially opened at the Shoppes at Venetian this spring and is set to bring unimaginable surprises to this amazing city that has more than 400 years of history with an enchanting mix of Eastern and Western cultures. The unique urban landscape and rich cultural heritage also make Macau full of attractiveness. The LEGO store exclusive experiences continue with built art pieces to showcase, and the latest hotspots to take snapshots. Do you want to be the first one to get the limited souvenirs prepared by the new LEGO Store? What's more? LEGO®'s one-stop unique shopping experience, plus the iconic design and decoration instore, will create memorable memories with all Macau fans, guests can curate their own selfies with the magnificent decorations in store and celebrate together at the grand opening of the first LEGO® Certified Store!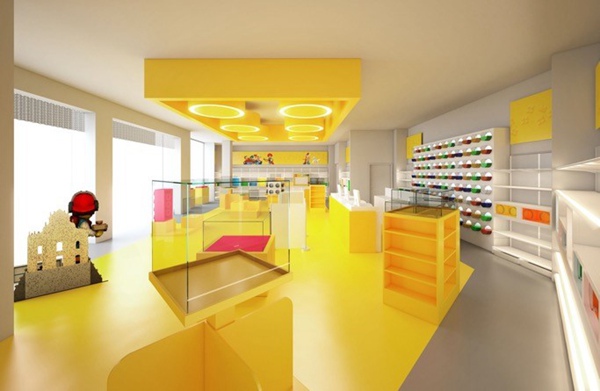 1. LEGO® Mosaic Wall features its first Macau themed mosaic of the collection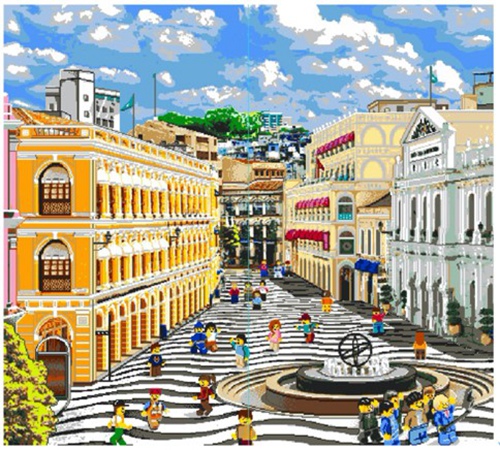 LEGO® Mosaic walls are always one of the key highlights and draw attention for LEGO® Stores, fans must be excited to visit this mosaic wall area portraying Largo do Senado (Senado Square) and inspired by its debut at the new LEGO Store. The installation integrates creativity in LEGO bricks together with Macau's landmark Senado Square as background, to present the reality world through LEGO bricks and minifigures representing tourists and residents in Macau. The piece is constructed using more than 200,000 pieces of LEGO bricks to present the iconic black and white Portuguese pavement. The mixing of the Portuguese pavement and the distinctive Portuguese heritage buildings on both sides has come together to shine a truly unique style of Macau town centre, come and join us, let's experience a different side of Macau!
2. Macau exclusive! 3D LEGO Model Build Perfectly to present unique culture of Macau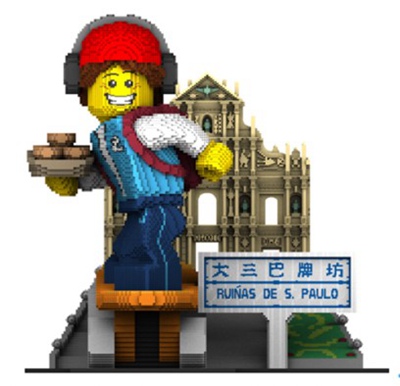 The large-scale 3D LEGO build made for the LEGO® Certified Store in Macau is 1.4 meters tall, and it is built with 86,800 pieces of LEGO® bricks and took 436 hours to complete. The build is composed of a Minifigure, the skater boy holding Portuguese tarts in his hand in front of the famous tourists' spot, Ruínas de São Paulo (Saint Paul's Ruins). It enchants the story of the integration of Eastern and Western culture described in the design of Ruínas de São Paulo. LEGO fans in Macau, here is your top choice of check-in hotspot!
3. LEGO Replica of one of the top 8 scenes, Casas – Museu da Taipa (Taipa Houses – Museum)

With the help of Greater China's first LEGO® Certified Professional, Andy Hung, the first LEGO Store in Macau is going to present one of the top 8 scenes, the 5 houses complex with the style of Portuguese architecture featuring its outstanding beauty and important architectural value. After 3 weeks of effort, it is officially live in the new LEGO Store in Macau.
4. Lunar New Year Shopping for the Year of the Ox. The Grand Opening of Macau's LEGO® Certified Store is filled with tons of local elements!
Don't miss out the chance to come and collect limited edition souvenirs from the first LEGO® Store in Macau! Andy is also invited to design a collective set of "LEGO® Macau Special Edition Postcards Pack", showcases signature elements of this lovely place in LEGO style. After a long period of preparation building the scenes then put it into production, and you will definitely fall in love with the simplicity and creativity in this postcard set, very meaningful and full of gratitude which added great collection value. It must be the best choice to all LEGO® fan
Redemption Details for "LEGO® Macau Special Edition Postcards Pack":
Shoppers who have successfully registered as a member at LEGO® Certified Store Macau can redeem a complimentary set of "LEGO® Macau Special Edition Postcards Pack" on or before 28 February.
In addition to the "LEGO® Macau Special Edition Postcards Pack" and "Give the Gift of Play" offer for the Year of the Ox, there are also a series of exclusive gifts specially designed for this special occasion! Everyone should come and go shopping for Lunar New Year and fill your bags, to discover the true meaning behind "Give the Gift of Play"! Check out the redemption details now!
Exclusive Gifts Redemption Details:
Gift Items
Spending Level

Minifigures strings Bag

MOP$450 or above (on a single receipt)


LEGO® Surprise Scratch-off Card

MOP$600 or above (on a single receipt)


LEGO® Idea 40448 Vintage Car

MOP$800 or above (on a single receipt)


Grand Opening Limited Boxset
40145 LEGO Brand Retail Store

MOP$1,500 or above (on a single receipt)
5. Exclusive Products at LEGO® Certified Store, first Revealing in Macau
As the first LEGO® certified store in Macau, a variety of exclusive products and popular items are available for the first time in The Venetian Macao's store:
Exclusive in LEGO® Certified Store

21325 - Medieval Blacksmith

71741 – NINJAGO® City Gardens

10278 – Police Station

40466 – Chinese New Year Panda

40460 – Roses & 40461 - Tulips

40469 – Tuk Tuk
Chinese new year's highlights:

80106 – Story of Nian

80107 – Spring Lantern Festival

10943 – Happy Childhood Moments
LEGO® Certified Store Macau
Address: Shop 872 & 874, Grand Canal Street, Level 3, Shoppes at Venetian, Macao
Opening Hours: 10:00 – 23:00
Tel: +853 2833 0360
About the LEGO Group
The LEGO Group's mission is to inspire and develop the builders of tomorrow through the power of play. The LEGO System in Play, with its foundation in LEGO bricks, allows children and fans to build and rebuild anything they can imagine. 
The LEGO Group was founded in Billund, Denmark in 1932 by Ole Kirk Kristiansen, its name derived from the two Danish words LEg GOdt, meaning "Play Well". Today, the LEGO Group remains a family-owned company headquartered in Billund. However, its products are now sold in more than 130 countries worldwide. For more information, please visit: www.LEGO.com