Sands China Team Members Earn One-Year Diplomas from University of Macau

5th and 6th intake of students complete tailor-made diploma programme in business management

(Macao, Mar. 25, 2020) – The University of Macau has awarded diplomas to 46 Sands China team members, after they completed the University of Macau's one-year Diploma in Business Management. They are the fifth (class of 2019) and sixth intake (class of 2020) of team members to complete the custom-built programme.

The team members received their diplomas Wednesday at a graduation ceremony at the university. They represent a diverse group of gaming and non-gaming departments at Sands China, such as table games, facilities, housekeeping and others.

The diploma programme was specially designed to be practical and adaptable, and was tailor-made to be relevant for Sands China team members. As a bridge between secondary education and a bachelor's degree, the programme supports both team members' career advancement and academic pursuits. The programme structure is adjusted each year based on the observations of the university and a study of previous cohorts of team members. Coursework is also regularly updated to match the company's real-life business situations.

"Our team members have earned our congratulations on their well-deserved success, as they have showed real perseverance in their studies despite the additional difficulties posed by the pandemic," said Wen Hongyan, senior vice president of human resources for Sands China Ltd. "The more than 200 team members who have completed the one-year diploma programme since 2014 work in various fields, and 120 of them are long-serving team members who have worked for the company for more than 10 years. We are very pleased to be able to offer a diverse learning experience to team members across all fields, as we continuously improve our human capital strategy – in line with the direction set by the Macao SAR government to make essential contributions to Macao's development as a world centre of tourism and leisure. Our gratitude goes to the University of Macau for their continued partnership with us for the development of local talent in the integrated resort industry."

Sands China was the first company to work with the University of Macau to develop a one-year diploma programme, launching it in the 2014/15 academic year with the university's Centre for Continuing Education.

Programme participants must complete eight courses to graduate, totalling more than 288 hours of coursework. Sands China supports their participation by sponsoring MOP 12,000 of each student's course fees (equivalent to 55 per cent), and by adjusting team members' work shifts around their class schedules.

One of Wednesday's graduates, concierge manager Elimar Regala Deopante, spoke at the ceremony and said: "We were fortunate enough to be given the opportunity to further our studies with the support of Sands China, in order to develop our careers. It was a huge challenge for everyone, as while we were indeed given this wonderful opportunity to study, we were also working in the interim. Luckily enough, we were also able to receive ample support from our respective departments regarding our schedules. Without this support, it would most likely be difficult for everyone to juggle work, studies and home life."

Sands China is committed to developing a well-trained workforce, and offers a variety of horizontal and vertical mobility opportunities to its team members – including through internal promotions and integrated resort career development programmes – with the aim of contributing to Macao's growth as a world centre of tourism and leisure.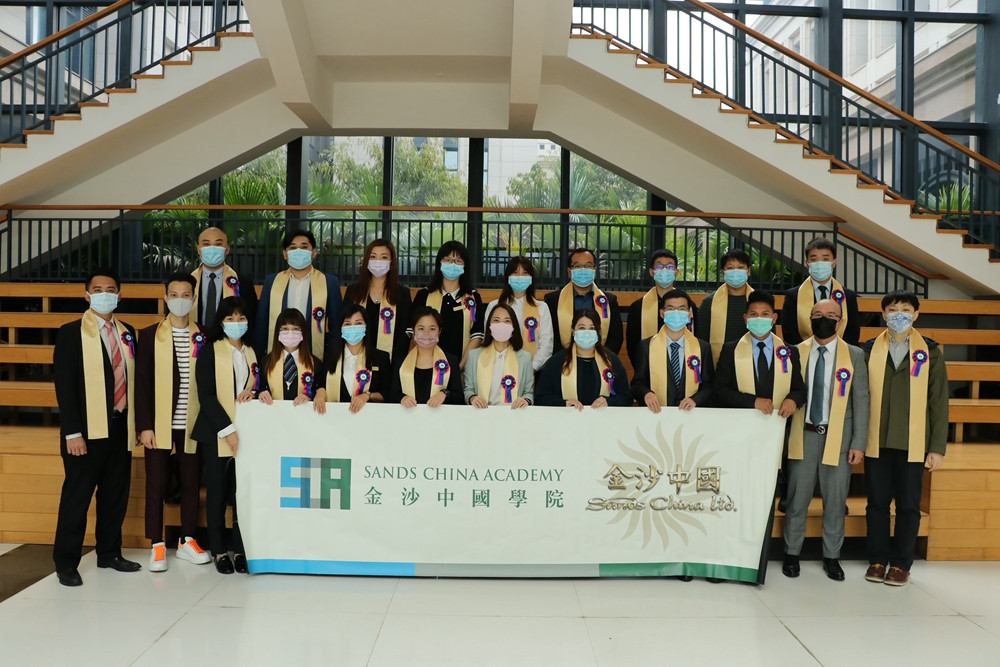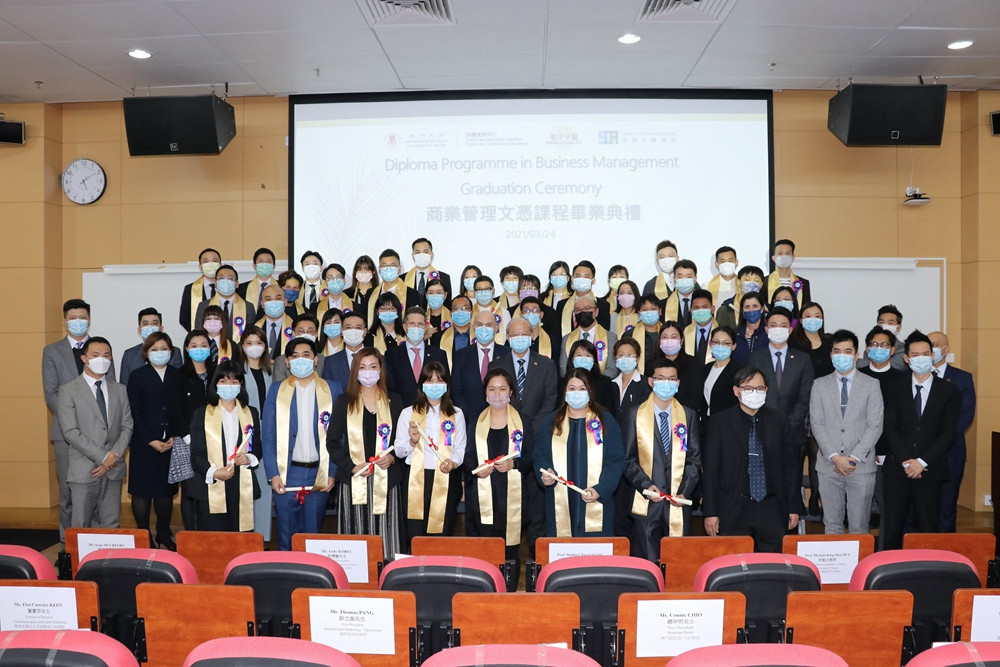 Photo caption: Sands China team members attend a graduation ceremony Wednesday at the University of Macau, after completing the university's one-year Diploma in Business Management – a customised programme created specifically for Sands China team members.