Sands China Screens CPC 100th Anniversary Film '1921' for Team Members

Part of company's ongoing professionalism education efforts
(Macao, July 16, 2021)–Sands China team members viewed a special screening of the film "1921" at Cinema Alegria Tuesday, hosted by Sands China as part of the company's ongoing efforts to build professionalism and deepen understanding of national development and the mainland among team members. Members of two local community organisations, the Women's General Association of Macau and the Macau Federation of Trade Unions, were also invited to join Tuesday's screening.

As the title of the film suggests, the historical drama takes place in the year 1921 and tells the story of the young people who gathered in Shanghai to found the Communist Party of China (CPC) 100 years ago on July 1, 1921. The film aims to provide a panoramic view of the party's founding and to portray the spirit, passion and aspirations of the Chinese communists during the early period of the CPC.

"Sands China is very pleased to host this special screening of '1921' for our team members' professionalism education," said Dr. Wilfred Wong, president of Sands China Ltd. "As we celebrate this important centenary, we hope the film inspires team members and facilitates a deeper understanding of China's history and culture, and of the struggles, successes, and mission surrounding the establishment of the CPC."

Kitty Chong, an intern, was among the more than 180 audience members at Tuesday's screening, and said: "I really enjoyed this film because it gave me a deeper understanding of the party's founding history in an entertaining way. We got to see an exciting story play out on screen and experience the emotions that go along with these dates and events that we read about in school. I'm happy that I got to see it with my colleagues and am glad the company set up this screening for us."

Sands China has been committed to bolstering the professionalism of its team members through various initiatives, including Greater Bay Area visits, professional literacy training courses, professional lectures, various professional exchange activities, and through film viewing sessions. Nearly 30 professionalism activities have been held to date, with a participation of over 10,000.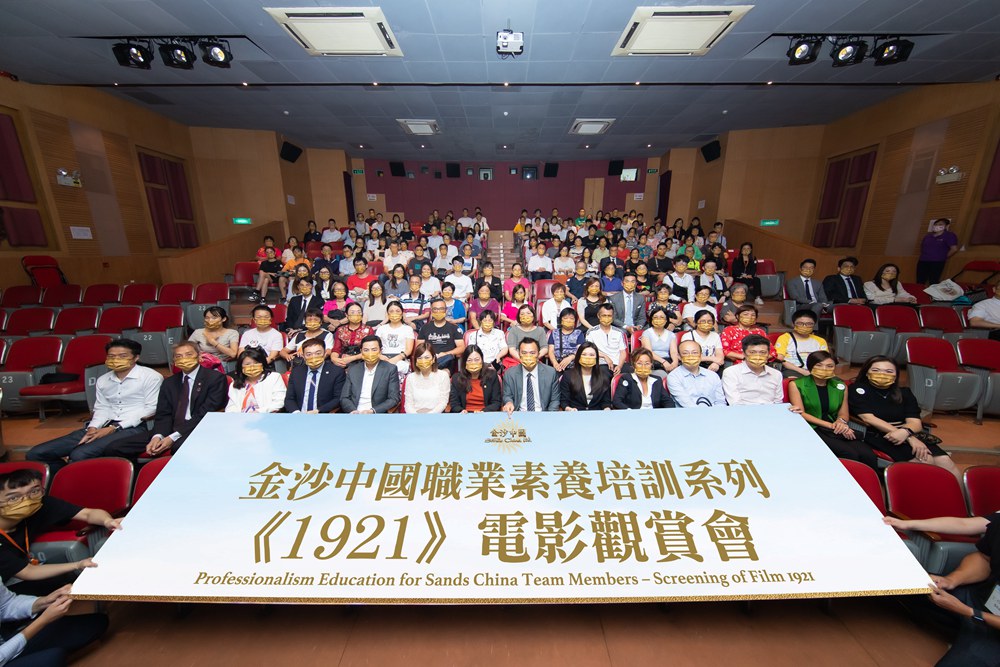 Photo caption:Sands China team members and members of local community organisations view a screening of the film "1921" together at Cinema Alegria Tuesday. The event aimed to deepen their understanding of national development and the mainland.