Sands China Makes MOP 1.08 Million Donation to Local Tertiary Institutions for Scholarships and Fellowships
Initiative's 15th consecutive year, benefiting 1,500 students to date
(Macao, Oct. 29, 2021) –
Sands China Ltd. made its 15th consecutive donation of scholarship and fellowship money to Macao tertiary institutions Thursday, presenting ceremonial cheques totalling MOP 1.08 million to representatives of seven institutions at a ceremony at The Venetian® Macao. The annual initiative is part of the company's ongoing support of higher education in Macao.

"It is vital for Macao to continually expand its pool of diversified talent, so it is our pleasure to continue contributing to that effort through this annual donation," said Dr. Wilfred Wong, president of Sands China Ltd. "We hope that this scholarship and fellowship money for Macao's tertiary institutions will nurture the growth of local youth, support higher education in Macao, and promote Macao's further development into a world centre of tourism and leisure."

With this year's donation, Sands China's total donation amount for tertiary scholarships and fellowships in Macao has reached MOP 12.4 million, benefitting almost 1,500 students since 2006.

Sands China representatives presented the ceremonial cheques Thursday to Carol Wong, director of the Rector's Office of the University of Macau; Christy Cheong, head of Academic Affairs Department, Alice Lao Weng Ian, head of the Student Affairs Office, and Irene Chan Iok Leng, head of the Public Relations Office of Macao Polytechnic Institute; Louisa Lam Pou Iok, head of registrar of the Pedagogic Affairs Department of the Institute for Tourism Studies; Kwong Ying Wa, vice president, and Remus Wong Ka Weng, head of the Student Affairs Office, of the Macau University of Science and Technology; Stephen Morgan, rector, Alejandro Salcedo Garcia, administrator, and Teresa Loong, head of office for Student and Alumni Affairs of the University of Saint Joseph; Zhiming Cai, head of the Academic Affairs Office of City University of Macau; and Keegan Cheang Kin Lap, board of directors treasurer of the Macau Institute of Management.

Each year, the educational institutions select beneficiary students based on their academic performance and financial status during the previous academic year. This year's MOP 1.08 million donation will be distributed among 108 students to support their studies for the current academic year.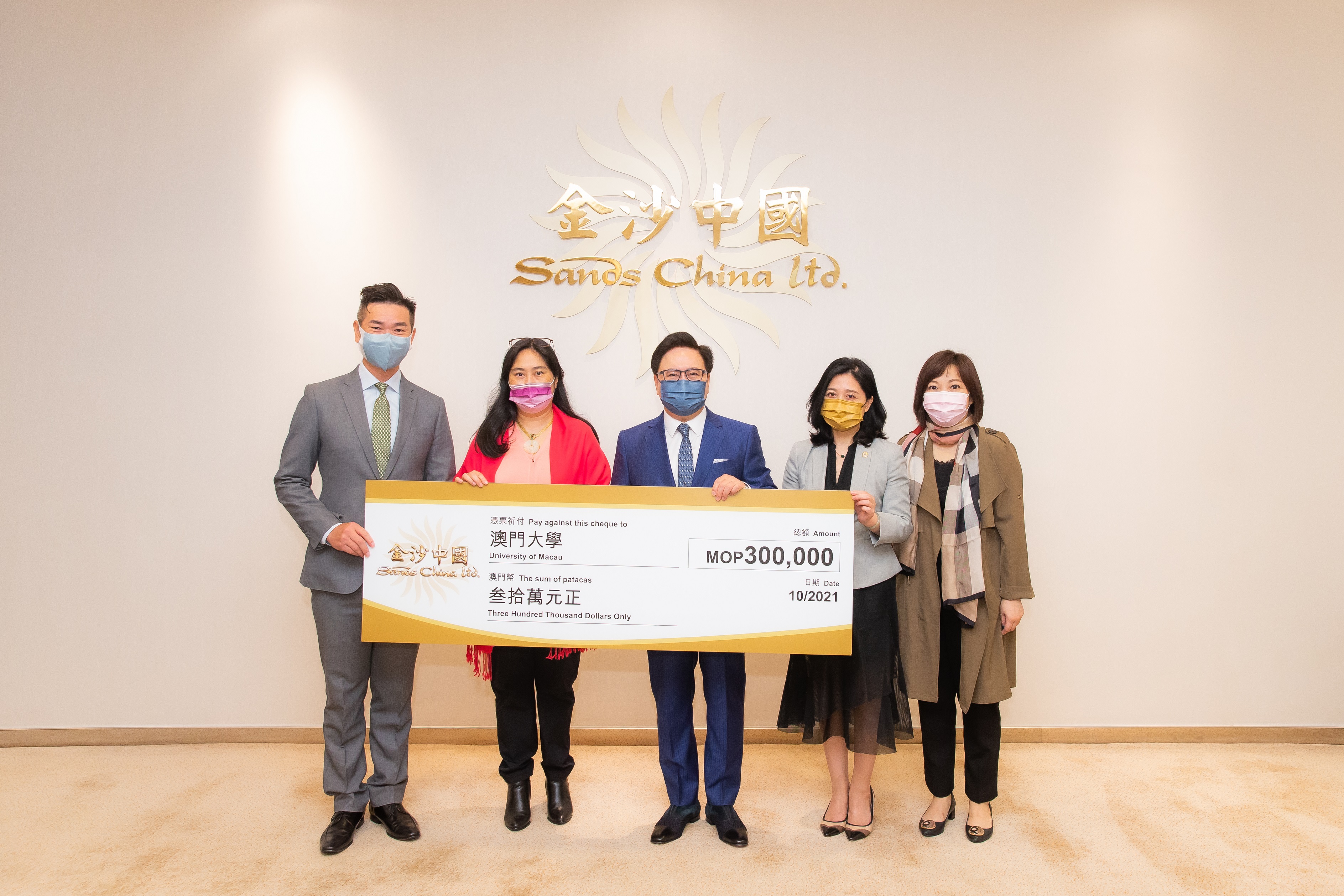 Photo caption: Dr. Wilfred Wong (centre), president of Sands China Ltd., presents a ceremonial cheque to Ms. Carol Wong (centre-left), director of the Rector's Office of the University of Macau. Sands China donated over MOP 1 million in scholarships and fellowships to seven Macao tertiary institutions at a presentation Oct. 28 at The Venetian Macao.
Also pictured: Annie Lam (right), director of community affairs, Venetian Macau Limited; Wen Hongyan (centre-right), senior vice president of human resources, Sands China Ltd.; and Lourence Ho (left), director of human resources, Venetian Macau Limited.