Sands China Team Members Watch Company Screening of Film 'The Battle at Lake Changjin'
Part of Sands China's ongoing professionalism education efforts
(Macao, Dec.6, 2021) –
Sands China Ltd. hosted a special screening of the film "The Battle at Lake Changjin" for its team members Nov. 24 at Cinema Alegria. This is the fourth film screening Sands China hosted for its team members, as part of the company's ongoing efforts to build professionalism and deepen understanding of national development and the mainland among them. Sands China also invited members of three local community organisations to join the screening: the Macau Federation of Trade Unions, the General Union of Neighbourhood Associations of Macau, and the Women's General Association of Macau.

"The Battle at Lake Changjin" portrays the awe-inspiring encounter between the Chinese People's Volunteer Army and the U.S. Army in a fierce battle fought in the winter of 1950, when the Chinese forces managed to achieve a key victory in the Korean War despite severe conditions such as extreme weather, starvation and disadvantages in firepower. The film showcases the Chinese people's unwavering spirit and aspirations.

Dr. Wilfred Wong, president of Sands China Ltd., said: "Professionalism education remains an important priority for Sands China. We hope that through this screening of 'The Battle at Lake Changjin,' our team members can continue to gain deeper understandings of Chinese history and culture. And as our national identity strengthens through connections to our past, like with this film, we hope team members will continue to feel inspired to make contributions to the advancement and development of the nation."

Lao Weng Leng was among the nearly 240 audience members and said: "This is the fourth time I've been to a screening organised by the company, and I am thankful for the company's considerate arrangement. The Chinese army fought very courageously in this film, and under some really unfavourable conditions, and I thought that was so inspiring."

Sands China has been committed to bolstering the professionalism of its team members through various initiatives, including Greater Bay Area visits, professional literacy training courses, professional lectures, various professional exchange activities, and through film viewing sessions. Over 30 professionalism activities have been held to date, with a participation of over 10,000.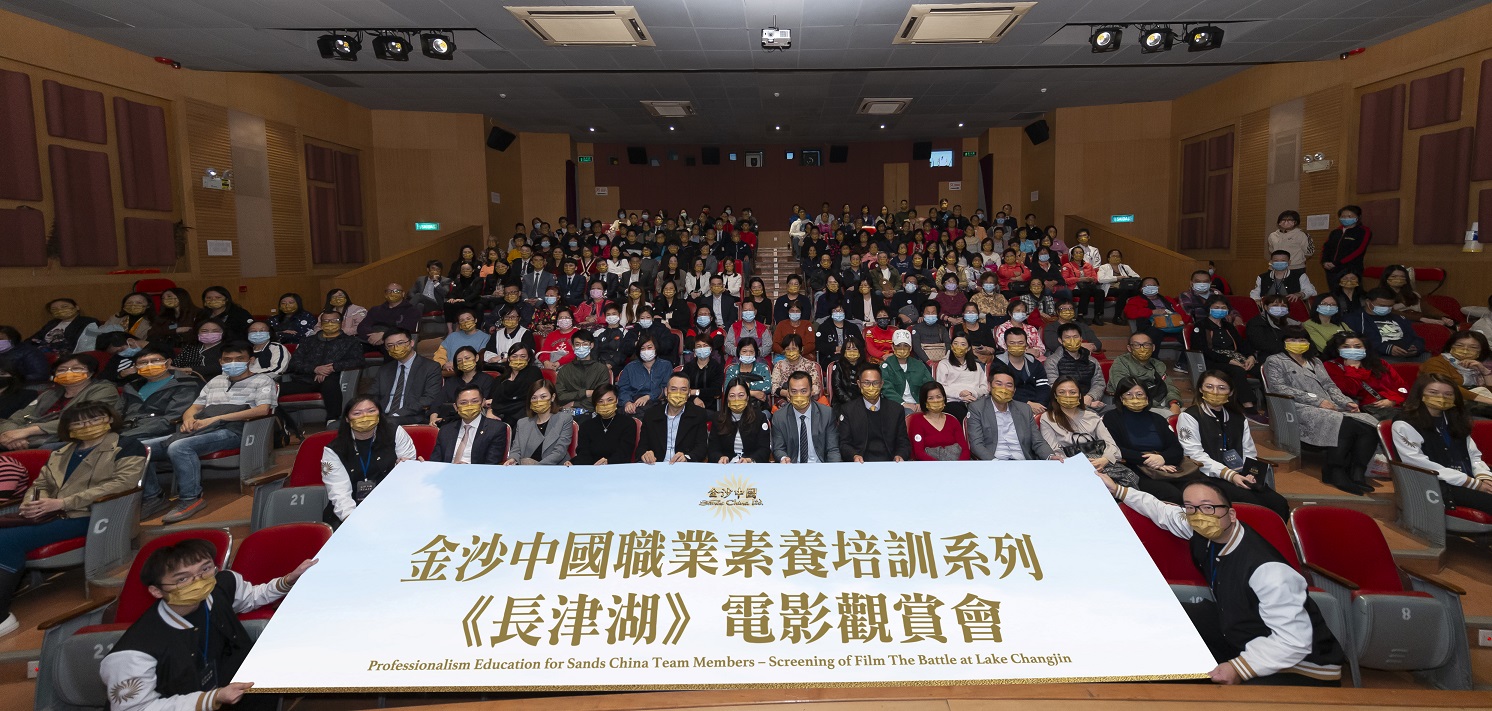 Photo caption:SandsSands China team members and members of local community organisations view a screening of the film "The Battle at Lake Changjin" together at Cinema Alegria Nov. 24. The event aimed to deepen their understanding of national development and the mainland.