Sands China Presents 11th Because We Care Team Member Awards
Outstanding team members recognised for exemplifying company's core culture of service
(Macao, July 10, 2019) – Sands China Ltd. paid tribute to some of its most exemplary team members June 27 at the 11th Because We Care Team Members Awards at Sands® Cotai Central.

The awards were inaugurated in 2013 to honour team members who epitomise Sands China's Because We Care culture of service, which comprises four cultural values: We Are Friendly, We Are Professional, We Are Active Listeners, and We Are One Team.

Dr. Wilfred Wong, president of Sands China Ltd., said: "The year 2019 marks the 15th anniversary of the company's first property, the Sands Macao. Since its opening in 2004, our team members have established a strong tradition of excellence, and that has been further reinforced by the cultural values of Because We Care. With those values in mind, we have worked together and supported each other in a common goal – providing exceptional service to guests and to each other – and that is something that has made Sands China a leader in our industry."

At the awards ceremony, Sands China premiered a series of video featuring management members, so as to encourage team members to understand more about the Because We Care values. Sands China will continue promoting the company's core culture with comics and animated videos at its properties' back-of-house team member areas and through in-house communication platforms. The goal is to reinforce team members' understanding of Because We Care service culture with an interesting and practical approach, so that their exceptional service will continue to contribute to Macao's position as a world centre of tourism and leisure.

For each year's awards, Sands China team members are invited to participate in a company-wide nomination process, with more than 300 individuals and teams nominated this year, comprising over 700 team members nominated in total. Top individual and team nominations – over 60 of them in total this year – are shortlisted by a judging panel of previous award winners, and all team members are then invited to vote for their favourite nominees. This year's awards drew an enthusiastic response from team members, with more than 30,000 votes cast.

After all votes are tallied, gold, silver and bronze winners are named each year in seven award categories: Influential Service, Exceptional Spirit, Impressive Performance, ECO360 Live Green, People's Choice, Best Leadership, and Outstanding Teamwork.

The awards ceremony was attended by nearly 800 nominees' family, friends and fellow team members. All nominees received thank you certificates from Sands China, and a variety of cash and other prizes were awarded to the 21 winners.

The winners of the 11th Because We Care Team Member Awards are:
Award

Gold

Silver

Bronze

Influential Service Award

Joan Lin

Rajesh Shahi

Heidi Choi

Exceptional Spirit Award

Warren Cabada

Ng Oi Tai

Manuel Chau

Impressive Performance Award

Annie Pan

Shirly Li

Yolanda Wu

Jack Han

ECO360 LIVE GREEN Award

Facilities – Venetian Hotel

Audio Visual Team

The Sands China

Wardrobe Team

Jack Chan

People's Choice Award

Andy Chan

Renee Lao

Kiki Luo

Best Leadership Award

Stephy Chong

Bee Chen

Yumi Onuki

Outstanding Teamwork Award

Emporio and Boutique Gondola

Signature Store Team

Table Games

Tournament Parade Team

Community Affairs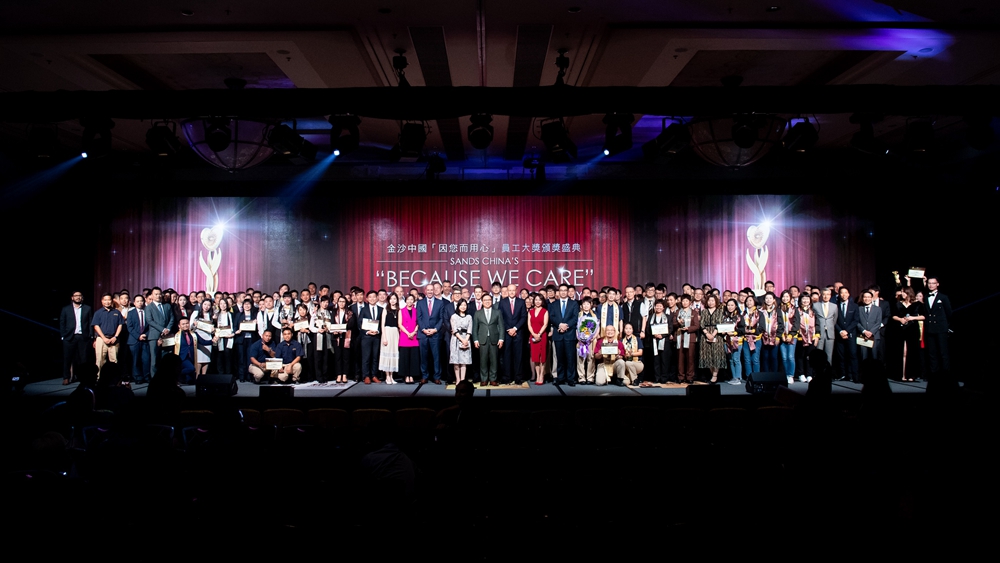 Photo caption: Sands China honours exemplary Sands China team members at the company's 11th Because We Care Team Member Awards June 27 at The Londoner Macao. Awards are given to individuals and teams who embody Sands China's four cultural values of friendliness, professionalism, active listening, and teamwork. Sands China team members are invited to participate in a company-wide nomination process, with more than 300 individuals and teams nominated this year, comprising over 700 team members nominated in total.
###



About Sands China Ltd.
Sands China Ltd. (HKEx: 1928, Sands China or the Company) is a Cayman Islands registered company and is listed on The Stock Exchange of Hong Kong Limited. Sands China is the largest operator of integrated resorts in Macao. The Company's integrated resorts on the Cotai Strip comprise The Venetian® Macao, The Plaza® Macao, Sands® Cotai Central and The Parisian Macao – with The Londoner Macao to be reintroduced as The Londoner Macao. The Company also owns and operates Sands® Macao on the Macao peninsula. The Company's portfolio features a diversified mix of leisure and business attractions and transportation operations, including large meeting and convention facilities; a wide range of restaurants; shopping malls; world-class entertainment at the Cotai Arena, The Venetian Theatre, The Parisian Theatre, the Sands Cotai Theatre and the Sands Theatre; and a high-speed Cotai Water Jet ferry service between Hong Kong and Macao. The Company's Cotai Strip portfolio has the goal of contributing to Macao's transformation into a world centre of tourism and leisure. Sands China is a subsidiary of global resort developer Las Vegas Sands Corp. (NYSE: LVS).

For more information, please visit www.sandschina.com.