Shawn Mendes Headline Tour to Perform at The Venetian Macao's Cotai Arena on Oct. 13, 2019
ShawnAccess fan presale begins April 25; UnionPay presale begins April 26; Public sale starts April 29

(Macao, April 23, 2019) – Grammy nominated, multi-platinum singer/songwriter Shawn Mendes will bring SHAWN MENDES: THE TOUR to The Venetian® Macao's Cotai Arena on Oct. 13, 2019. Tickets priced at MOP 1,280/880/680/480 will go on public sale from April 29, 2019 at 10 a.m. via all Cotai Ticketing box offices. The concert is produced by AEG Presents Asia. Kicking off on Oct. 1, it spans more than 100 dates throughout 2019 across North America, Latin America, Europe, the UK, Australia, New Zealand and Asia.

As the official sponsor of The Shawn Mendes Asia Tour Macao Show, UnionPay International is offering cardholders several exclusive benefits. Ticket availability:Bank of China Macau Branch UnionPay credit card holders can purchase advance tickets up to 72 hours before the general public sale, from April 26 from 10 a.m. to 10 p.m. UnionPay credit card holders are entitled to the advanced purchase of tickets up to 48 hours before the general public sale, from 10 a.m. on April 27 to 10 p.m. on April 28. Tickets go on sale to the general public from 10 a.m. on April 29. For tour info and updated benefit information, please refer to UnionPay International's official channels including Facebook and Weibo.

The ShawnAccess Fan Presale for the Asia leg of the tour begins on Thursday, April 25 from 10 a.m. The ShawnAccess Fan Presale is the first chance to get presale tickets to the tour ahead of the public onsale. For all tour dates and onsale information, please visit http://shawnmendesofficial.com. For presale information, including how to access the ShawnAccess Presale, please visit ShawnAccess.com or the ShawnAccess app.

For all tour dates and ticket info please visit: http://www.shawnmendesthetour.com.

Ticketing details:

Event SHAWN MENDES: THE TOUR 2019 MACAO

Date and Time Oct. 13, 2019 (Sun)

Venue Cotai Arena, The Venetian Macao

Ticket Prices MOP 1,280 (A Reserve)
MOP 880 (B Reserve)
MOP 680 (C Reserve)
MOP 480 (D Reserve)

Ferry Packages Add MOP 128 to ticket price for a round-trip Cotai Water Jet ferry ticket between Hong Kong and Macao
Ticketing Outlets Cotai Ticketing
Online: www.cotaiticketing.com

Box offices:

The Parisian Macao - Main Lobby Box Office L1

The Venetian Macao – Cotai Arena and Main Lobby Box Offices

Four Seasons Hotel Macao – The Plaza™ Macao Box Office

Sands® Macao – Level 1 Box Office
Sands® Cotai Central – Sheraton Main Lobby and Holiday Inn Main Lobby Box Offices

Phone:

Macao: +853 2882 8818

Hong Kong: +852 6333 6660

China toll-free: 4001 206 618

Macao Kong Seng Ticketing Network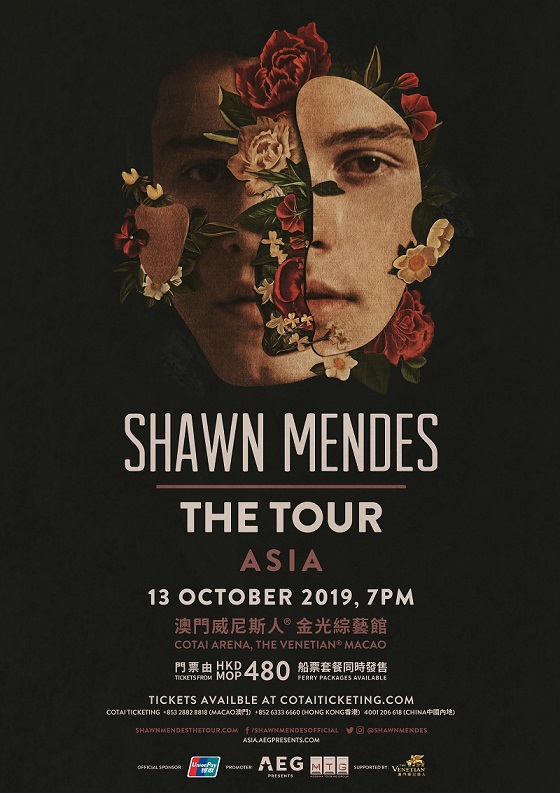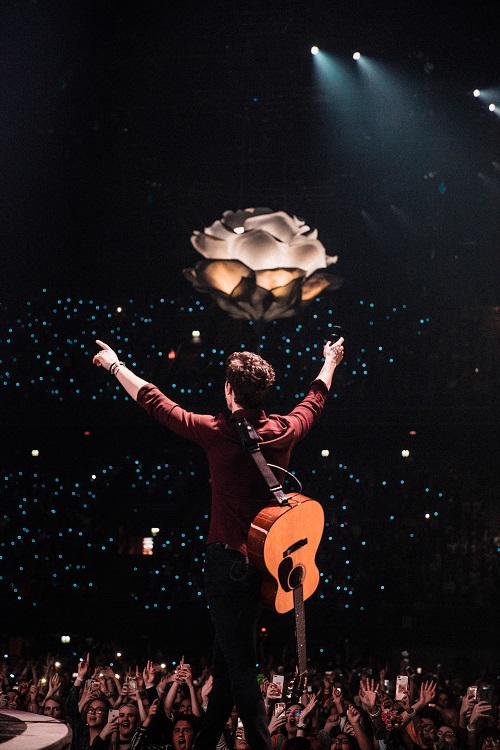 Photo caption: Multi-platinum artist Shawn Mendes will bring SHAWN MENDES: THE TOUR to The Venetian Macao's Cotai Arena on Oct. 13, 2019.

For high resolution photos, please access the following:
https://sfs.sands.com.mo/w/fhj2iyu1 (Link valid until April 30, 2019)
Username: Sands.PR@sands.com.mo
Password: SCLMacao@2018
(case sensitive)
###



About Shawn Mendes
Grammy® Award-nominated Toronto born multi-platinum singer/songwriter Shawn Mendes released his highly anticipated self-titled third album in May 2018. The album debuted at #1 on the Billboard 200 album chart as well as multiple additional worldwide markets, including Australia, Canada, Mexico, Belgium, Holland & more and shot to #1 on iTunes in more than 80 countries immediately upon release. The album became one of the top best-selling album debuts of 2018 and made Shawn the third youngest solo artist to ever have three consecutive #1 albums. At the end of 2018, Shawn was nominated in two categories for the 61st annual Grammy Awards, including song of the year" for "In My Blood" and best pop vocal album for "Shawn Mendes". Leading up to the album, he released multiple tracks including "Youth" Featuring Khalid, "In My Blood" and "Lost in Japan." Both "In My Blood" and "Lost In Japan" experienced massive success, soaring to the #1 and #2 spots on the overall iTunes chart in the U.S, Top 5 on iTunes in over 50 countries, and held the #1 and #2 spots on Spotify's "New Music Friday" playlist. With "In My Blood," Shawn became the first artist to have four #1 singles at AC radio before the age of 20.
In April 2017, Shawn released his 3x Platinum hit "There's Nothing Holdin' Me Back". The track scored Shawn his second #1 single at Top 40 radio and on Billboard's Pop Songs chart, joining his 7x Platinum single "Stitches". Throughout his career, Shawn has achieved three consecutive #1 album debuts, two platinum albums, and eight consecutive platinum and multi-platinum singles. Worldwide he has sold over 15 million albums, 100 million singles, and has amassed over 20 billion song streams and five billion YouTube views. Shawn has completed two sold-out world tours with over one million tickets sold, selling out legendary stadiums and arenas including NYC's Madison Square Garden and London's O2 Arena in minutes. On his upcoming tour, Shawn Mendes: The Tour, he sold out his first ever stadium show in minutes at Rogers Centre in his hometown of Toronto. The tour begins in March 2019, with over 100 dates currently announced across the UK, Europe, North America, Latin America, Asia and Australia/New Zealand, with more to be announced soon. He topped Billboard's "21 Under 21" in 2017 and 2018 and has been featured on Forbes "30 Under 30", Spotify's "25 Under 25", and Time Magazine's "Time 100 Most Influential". In February 2018, ROI Influencer Media recognized Shawn as the #1 Most Influential Artist and #1 Most Influential Teen across all social media platforms.

Follow Shawn Mendes
Instagram | Twitter | Facebook | SoundCloud | YouTube | Spotify
About AEG Presents
AEG is the world's leading sports and live entertainment company. AEG Presents is dedicated to all aspects of live music, including producing and promoting global and regional concert tours, music events and world-renowned festivals. AEG Presents promotes more than 10,000 shows annually worldwide. The current and recent concert tour roster includes artists such as Celine Dion, Ed Sheeran, Rolling Stones, Katy Perry, Elton John and Shawn Mendes.
facebook.com/AEGPresentsAsia
Instagram @AEGPresentsAsia
Weibo @AEG亚洲
WeChat@AEG亚洲

About UnionPay International
UnionPay International (UPI) is a subsidiary of China UnionPay focuses on international business. In partnership with more than 2,000 institutions worldwide, UnionPay International has extended its card acceptance to 174 countries and regions globally with issuance in 52 countries and regions. UnionPay International provides high quality, cost effective and secure cross-border payment services to the world's largest cardholder base and ensures convenient localized services to a growing number of global UnionPay cardholders and merchants.
For more information about UnionPay International, please visit www.unionpayintl.com, like "UnionPay International" on Facebook, follow "@unionpay_intl" on Twitter.
Media contact: UPIPR@unionpayintl.com
Entertainment at Sands China Properties
Sands China Ltd. has a clear vision to establish Macao as Asia's top entertainment destination.

The 15,000-seat Cotai Arena and 1,800-seat Venetian Theatre are the only venues in Asia ranked in Pollstar's Top 100 Worldwide Arena Venues and Pollstar's Top 200 Worldwide Theatre Venues based on ticket sales. Cotai Arena is the top entertainment destination in southern China, hosting the world and region's biggest names in music, sports and awards shows. Superstars frequently choose the venue as the starting point of their Asian tours.

The 1,800-seat, multi-purpose Venetian Theatre is one of the most luxurious entertainment venues in greater China. Featuring ushers in black tie, champagne service, gourmet food and beverage and other unique, premium amenities, it offers an intimate, luxurious and exclusive venue experience. The Venetian Theatre is playing a key role in bringing the best in international and Chinese entertainment to Macao, with a theatre experience like no other in the region.

Sands® Macao's 650-seat Sands Theatre regularly features internationally-renowned singers, performers and artists of the highest calibre. From traditional Chinese-costumed dance to modern performances, everything from Western rock to Cantonese pop is covered.

At The Parisian Macao the 1,200-seat, purpose-built Parisian Theatre offers an elegant experience for world-class entertainment of all kinds, while the latest venue is the state of the art 1,700-seat Sands Cotai Theatre, purpose-built by Sands China Ltd for the Monkey King – China Show from the renowned Beijing Huayan Group, which recently completed a successful two year residency.

Offering world-class diversity and quality, Sands China Ltd.'s next generation of live venues is ushering in a new era of entertainment in Macao.

For information about upcoming shows and events, visit http://en.sandsresortsmacao.com/macau-shows.html and www.sandsmacao.com/entertainment.html