Musical Legends to Thrill Audiences at The Venetian Macao on Jan. 18, 2020
Memories Time Concert to present evening of great music at Cotai Arena

(Macao, Dec. 19, 2019) – Some of Asia's most popular singers will come together to appear at The Venetian® Macao's Cotai Arena on Jan. 18, 2020 for music spectacular Memories Time Concert. Tickets go on sale on Dec. 19 at all Cotai Ticketing box offices.

Performing the hits that made them all famous will be five iconic fan favourites: timeless singer songwriter Tayu Lo, 'Prince of Love Ballads' Jeff Chang, singer and actor Ken Chu, Singaporean powerhouse Tanya Chua and Mandopop legend Julia Pang.

All five acts, whose careers span three generations, will perform on a state of the art stage, featuring world-class production, including audio-visual, choreography and wardrobe.

Tayu Lo launched his career in the 1980s, becoming one of the most influential Mandopop singer-songwriters. He has released several best-selling albums, and had hits including "Master of the Future", "Orphan of Asia", "Tomorrow Will Be Better", "Lover/Comrade", "Love Song 1990 and "Queen's Road East". He has been recognised by the Hong King Film Awards, Taiwan Golden Horse Awards and MTV Video Music Awards.

Taiwanese pop singer, actor and theatre team leader Jeff Chang, known as the 'Prince of Love Ballads', has released a string of top-selling albums and is popular across Taiwan, Hong Kong, Southeast Asia and mainland China.

Ken Chu enjoyed success as a member of Taiwanese boy band F4 before starting his solo career. He has also starred in popular television dramas "Meteor Garden" and "The Legend of Chu Liuxiang", and played the lead role in movies "The Tokyo Trial" and "Sky of Love".

Tanya Chua is a three-time winner of Golden Melody Awards 'Best Mandarin Female Singer' and 'Best Album Producer'. She has released more than 15 albums, and had hits with tracks including "All Right", "Where I Belong", "Treasure the World", "Purple" and "Nightglow".

Julia Pang is a Mandopop singer, songwriter and actress who has gained popularity for her striking, powerful vocals. She won 'Best Mandarin Female Singer' and 'Best New Artist' at the Golden Melody Awards and has had success with love ballads including "Brief Encounter" and "Various Loneliness".

Appearing for just one night, Memories Time Concert at The Venetian Macao's Cotai Arena on Jan. 18, 2020 promises a sensational evening of live entertainment.

ICBC Sands Lifestyle Mastercard cardholders can enjoy 10% discount on ticket prices as well as earn points when shopping or travelling anywhere in the world and then redeem them in Macao within Sands Resorts Macao's integrated resorts.

Ticketing details:
Event Memories Time Concert

Date and Time Jan. 18, 2020 (Sat) 8 p.m.

Venue Cotai Arena, The Venetian Macao

Ticket Prices MOP 1,580 (VIP Reserve)
MOP 1,180 (A Reserve)
MOP 780 (B Reserve)
MOP 580 (C Reserve)
MOP 380 (D Reserve)

Ferry Packages Add MOP 128 to ticket price for a round-trip Cotai Water Jet ferry ticket between Hong Kong and Macao

Ticketing Outlets Cotai Ticketing
Online:

www.cotaiticketing.com

Box offices:

The Parisian Macao – Main Lobby Box Office L1

The Venetian Macao – Main Lobby and West Lobby Box Offices

Four Seasons Hotel Macao – The Plaza™ Macao Box Office

Sands® Macao – Level 1 Box Office
Sands® Cotai Central – Sheraton Main Lobby Box Offices

Phone:

Macao: +853 2882 8818

Hong Kong: +852 6333 6660

China toll-free: 4001 206 618

Macao Kong Seng Ticketing Network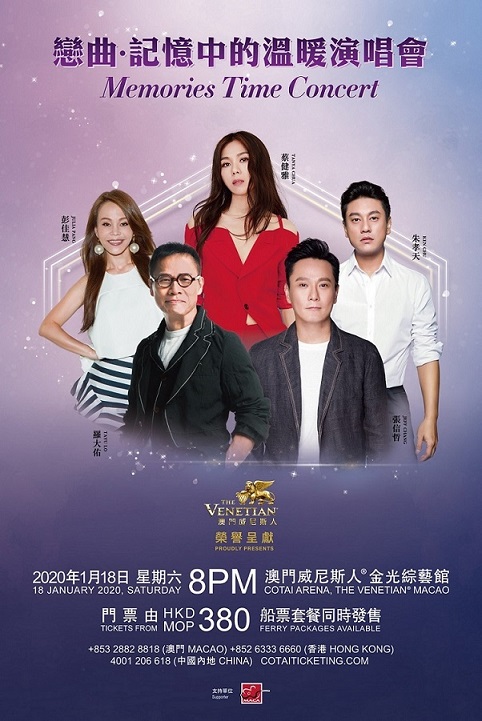 Photo caption: Popular singers Tayu Lo, Jeff Chang, Ken Chu, Tanya Chua and Julia Pang will appear at The Venetian Macao's Cotai Arena on Jan. 18, 2020 for Memories Time Concert.