Sands China Recognises Latest Batch of University Students to Graduate from Integrated Resort Internship Programme
65 interns honoured at The Londoner Macao ceremony


(Macao, August 12, 2019) – A group of 65 university students were honoured at a graduation ceremony Aug. 8 at Sands® Cotai Central, after completing the company's Integrated Resort Internship Programme between June and August. This latest batch of graduates is composed of year 3 and year 4 students from local educational institutions including the University of Macau, the Macau University of Science and Technology, the Institute for Tourism Studies, Macao Polytechnic Institute, and others.

A total of around 200 internship opportunities are being offered in 2019, in partnership with Macao's local higher education institutions. These opportunities are also available to locals who study in designated overseas institutions and plan to return to Macao.

This year, Sands China collaborated with the Labour Affairs Bureau to launch a Working Experience Programme to equip high school students with disabilities with work experience, offering them a chance to enter society and enhance their opportunities to be hired in the future. During the ceremony, 17 programme participants received certificates showing appreciation to their efforts and performance during their internships.

Sands China created the Integrated Resort Internship Programme to give local university students opportunities to work full-time at its integrated resorts on a short-term basis while earning academic credit. Students intern in one of 19 non-gaming departments such as concierge, entertainment, e-commerce, food and beverage, front office and others, including procurement and supply chain, and Cotai Travel – the most recent departments to join the programme. Over 470 students have interned in the programme to date.

Carlos de Sousa, director of operations of Conrad Macao, said: "We are very glad with our intern's performance. She has fulfilled our requirements in every task we assigned to her, and has grown tremendously throughout the internship. I hope that Sands China will continue to work closely with higher education institutions and offer valuable development opportunities to youth. With their whole-hearted dedication and enthusiasm, I am very enthusiastic about the future of Macao."

Wen Hongyan, senior vice president of human resources for Sands China Ltd., said: "Youth are the future of Macao. Our various programmes help them develop skills and further their industry knowledge, and help provide a steady flow of integrated resort professionals to the Macao community. This year, we have extended internship opportunities to youth with disabilities, hoping that the integrated resort work environment will allow them to explore various possibilities and get prepared for their careers. With our innovative human resource initiatives, we hope that people from all walks of life in this community will be able to harvest the fruit of Macao and Sands China's prosperity."

Graduates of the Integrated Resort Internship Programme can take advantage of both the depth and breadth of Sands China's talent development programmes, including the Career Experience Opportunities Programme (CEOP) and the Fast Track Supervisor Programmes.

And in collaboration with the Labour Affairs Bureau, Sands China has presented its latest programme – the All-round Food and Beverage Management Programme. Throughout a 12-24 month training, candidates complete an on-the-job practicum at Michelin-starred, Black Pearl or other restaurants, obtain certification by world-famous food and beverage associations, and eventually become restaurant assistant managers at Sands China.

Sands China has been collaborating with local universities to accelerate the cultivation of local talent through a variety of programmes for local university students and graduates. These programmes allow participants to be mentored by experienced professionals and learn about the latest trends in the local and international tourism industry. Participants accumulate valuable integrated resort work experience and gain professional skills and knowledge for their future careers. These and other initiatives by Sands China are an effort to support non-gaming diversification and talent development in Macao and the city's development as a world centre of tourism and leisure.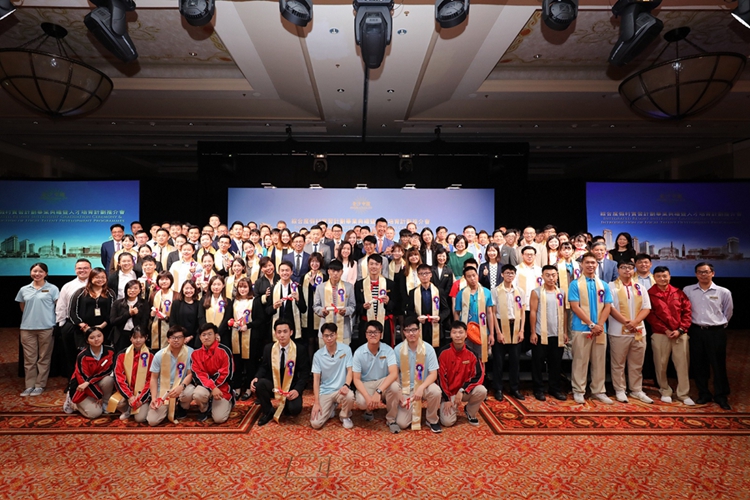 Photo caption: A group of 65 university students graduate from Sands China's Integrated Resort Internship Programme Aug. 8 at The Londoner Macao. Programme participants earn academic credit while working full-time at the company's integrated resorts on a short-term basis.