Sands Dining Launches Green Cuisine Campaign Across 14 Signature Restaurants
Range of dishes utilising the world's most innovative food ingredients provides sustainable, healthy, green lifestyle


(Macao, Nov. 9, 2018) – Sands Resorts Macao held a launch event today to announce its Green Cuisine campaign to introduce healthy vegan dishes at 14 of its restaurants, utilising the most advanced plant-based products available on the market.

Supported by Macao Government Tourism Office to reinforce the Creative City of Gastronomy designation, the campaign is a collaboration between Sands Resorts Macao and social enterprise Green Monday, which aims to tackle climate change and global food insecurity through green and sustainable living. The organisation works with corporations, universities and restaurants around the world to encourage the adoption of a plant-based diet one day a week to help in the fight against global warming and conserve natural resources.

The launch event, held at The Venetian® Macao's Portofino restaurant, featured live cooking demonstrations to showcase the vegan version of Macao's famous pork chop bun street food snack, the Sands Omnipork Pork Chop Bun, and other dishes using entirely plant-based ingredients. Mark McWhinnie, Senior Vice President of Resort Operations and Development, Sands China Ltd.; Tom Connolly, Senior Vice President of Food & Beverage Operations, Sands China Ltd.; Doris Leong, Head of Training & Quality Management Department, Macao Government Tourism Office; David Yeung, Founder of Green Monday and celebrity guest Janis Chan attended the event.

Sands Resorts Macao will offer a wide selection of delicious meat-free dishes at 14 of its most popular restaurants to offer guests healthier and more sustainable options while supporting its social and environmental responsibilities.

Participating restaurants include The Venetian Macao's Portofino, Canton, Golden Peacock
and
North
; The Londoner Macao's
Dynasty 8
; The Parisian Macao's
La Chine, Lotus Palace
and
Brasserie
; and Sands Macao's
Golden Court
and
Copa Steakhouse
. Guests can also taste the Sands Omnipork Pork Chop Bun at selected restaurants, including The Venetian Macao's
Imperial House
, The Londoner Macao's
Tastes
, The Parisian Macao's
Market Bistro
and Sands Macao's
888 Food Court
plus a green menu will be offered to MICE delegates as part of the Green Meetings programme.
Dishes offered will incorporate some of the most innovative plant-based foodtech ingredients from pioneers including products of
Beyond Meat, Omnipork, Just Scramble, Daiya
and
Gardein
. The campaign also makes Sands Resorts Macao unique in simultaneously offering such a comprehensive a range of non-meat substitutes.
Tom Connolly commented: "We are very excited about this campaign, which is one of the biggest corporate social responsibility initiatives of its kind and represents a positive impact for both hotel guests and visitors. A wide selection of vegan options will allow guests to experience and embrace this innovative social concept of a healthier and more sustainable diet."
David Yeung, Founder of Green Monday, believes Sands China Ltd. is taking the leading role in transforming Macao into a greener, healthier, and more sustainable place to live. "We are incredibly excited about this partnership and thrilled Sands China Ltd. is taking a leading role in championing wellness, sustainability and the future of food. This Green Monday partnership encompasses multiple targets as part of the United Nations' Sustainable Development Goals, including good health and well-being, sustainable cities and communities, responsible consumption, climate action, partnership for the goals. By implementing this initiative both for the community and its 28,000 staff members, Sands China Ltd. is playing a major part of aligning Macao with this leading global movement."
As part of the campaign, the back of house team member dining rooms at all Sands China properties are serving vegan menus every Monday to encourage employees to eat a greater plant-based diet in support of better health.
To learn more about Green Cuisine Campaign, please go to:
https://en.sandsresortsmacao.com/restaurants.html
and
https://www.sandsmacao.com/dining.html
.
---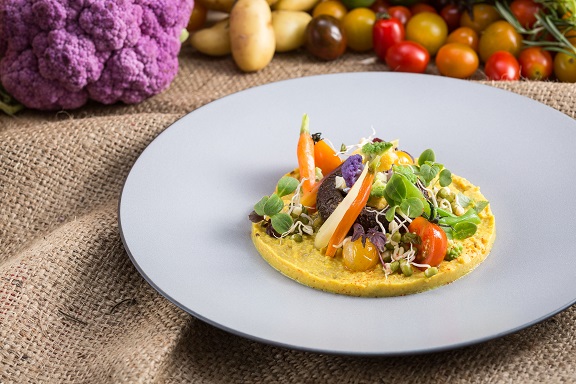 Organic millet and Delhi vegetable stew with sous vide Portobello mushrooms
Golden Peacock, The Venetian Macao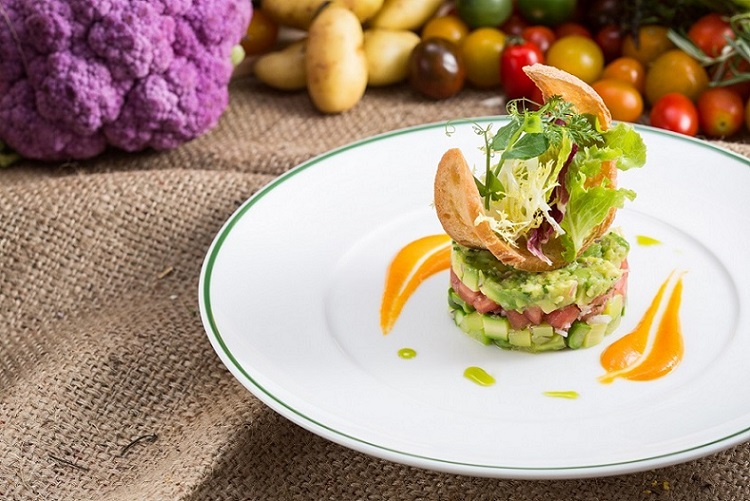 Asparagus, avocado and tomato tartare, red bell pepper coulis and crispy greens
Brasserie, The Parisian Macao
---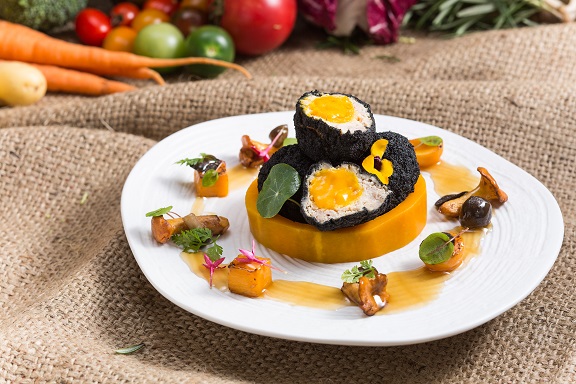 Tofu with pumpkin, black truffle, wild mushrooms and vegan pork
Dynasty 8, The Londoner Macao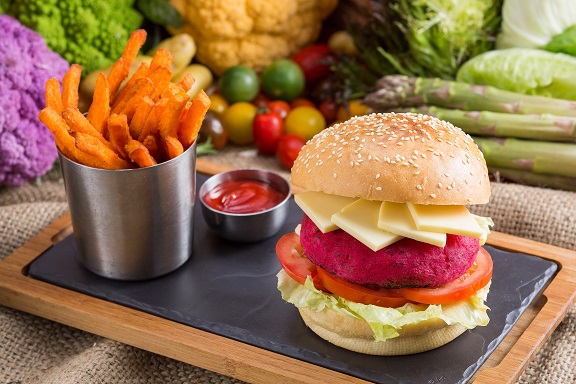 Daiya plant-based cheese, vegan beefless burger, sweet potato fries, tomatoes, onions and lettuce
Copa Steakhouse, Sands Macao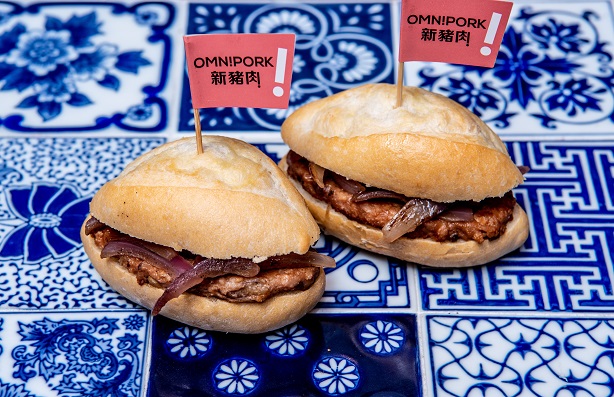 Sands Omnipork pork chop bun

Photo caption: Sands Resorts Macao held a launch event at The Venetian Macao's Portofino to announce the Green Cuisine campaign to promote vegan menus at its signature restaurants.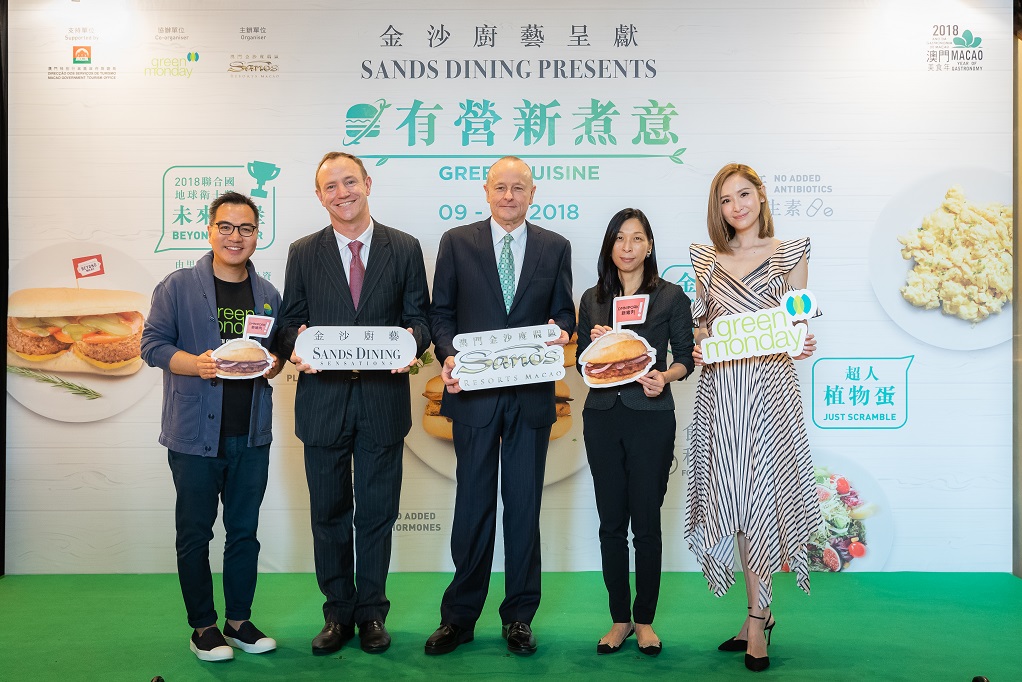 Photo caption: (from left to right) David Yeung, Green Monday Founder; Tom Connolly, Senior Vice President of Food & Beverage Operations, Sands China Ltd.; Mark McWhinnie, Senior Vice President of Resort Operations and Development, Sands China Ltd.; Doris Leong, Head of Training & Quality Management Department of Macao Government Tourism Office and celebrity guest Janis Chan kick off the Green Cuisine campaign at the launch event.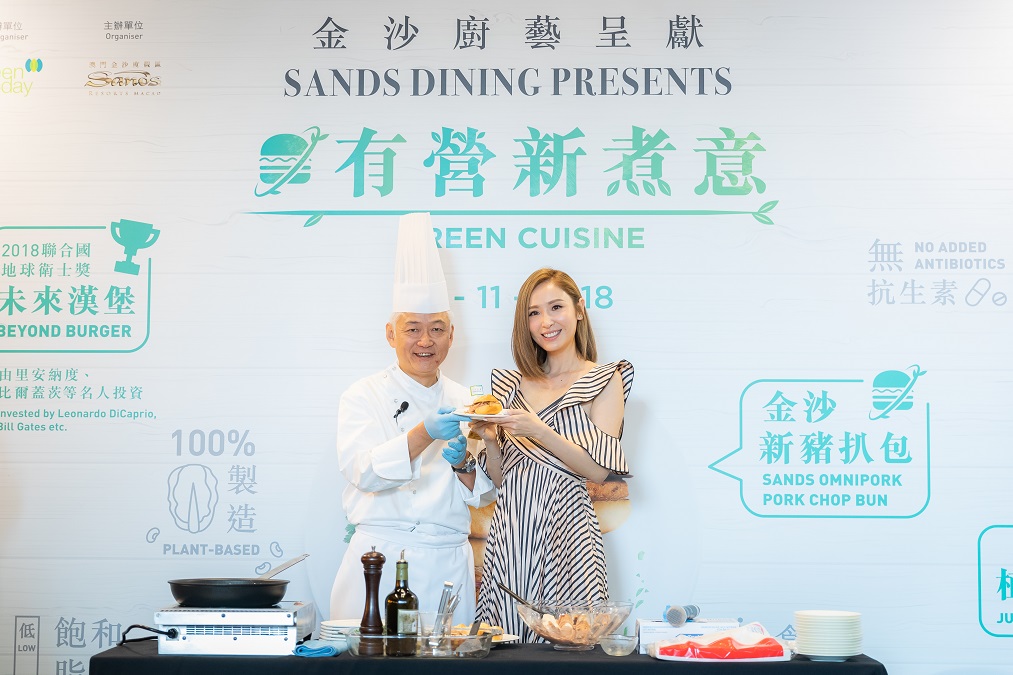 Photo caption: Alen Chow, Executive Chef of Convention Catering, Sands China Ltd., demonstrated making the Sands Omnipork pork chop bun with celebrity guest Janis Chan.
Sands Dining
Bringing the world to your plate — one dish at a time, Sands Dining highlights the diversity, quality, ingredients, chefs, creativity and ambience at Sands Resorts Macao's more than 150 restaurants. Offering a world of diverse cuisine prepared by some of the most innovative and skilled chefs, Sands Resorts Macao presents unique dining experiences at each of its distinctive restaurants and outlets. From authentic Chinese delicacies to Macanese favourites and global cuisine from France, Italy, Japan, India, Southeast Asia and more, there's something special for every palate.

For more information, please visit https://en.sandsresortsmacao.com/restaurants.html.


About Sands Resorts Macao – Sands China's Integrated Resort City
Sands China Ltd. is the leading developer, owner and operator of integrated resorts in Macao. The fittingly named Sands Resorts Macao, situated on reclaimed land between the islands of Coloane and Taipa, is the one destination that provides a stunning array of experiences at the heart of Cotai. Sands Resorts Macao has transformed a day-trip market into an integrated resort city and international hub for business and leisure travellers.

Pulsating with life, both night and day, Sands Resorts Macao features an expansive offering of affordable luxury available nowhere else in Macao. With the opening of The Parisian Macao, it now boasts approximately 13,000 hotel rooms and suites, international superstar live entertainment, duty free shopping with more than 850 retailers offering a huge array of name brands, meeting and exhibition space for Asia's leading conferences and exhibitions, transportation offerings and well over 150 dining options, including Michelin-starred restaurants, bars and lounges. Sands Resorts Macao is a must-go destination providing every guest with an unforgettable experience and unparalleled excitement.

Comprised of The Venetian® Macao; The Plaza™ Macao, featuring the Four Seasons Hotel Macao; and Sands® Cotai Central, including the world's largest Conrad, Sheraton, and St. Regis hotels as well as the Holiday Inn, Sands Resorts Macao is where Asia's ultimate destination is within reach. And now the crowning achievement of Sheldon G. Adelson's vision of the Cotai Strip – The Parisian Macao. For more information, please visit https://ParisianMacao.com.

For more information about Sands Resorts Macao, please visit http://en.sandsresortsmacao.com.