Sands Retail Academy Holds 7th Graduation Ceremony
Over 180 retail employees graduate from customer service training programme


(Macao, Nov. 22, 2018) – More than 180 employees from Sands Shoppes Macao retailers graduated from the Sands Retail Academy Thursday with a ceremony at the Four Seasons Hotel Macao, Cotai Strip.

The group of retail employees work for over 50 well-known brands from various retail sectors, including fashion, watch and jewellery, general retail, and food and beverage. They are the seventh group to complete one of the complimentary customer service training programmes provided by the Sands Retail Academy.

The academy seeks to support the retailers of Sands Shoppes Macao with service and management training for their employees. It is aimed at continually enhancing customers' shopping experiences and strengthening the quality of service in Macao's retail industry.

Over 90 of Thursday's graduates were recognised for completing the academy's Service Enhancement customer service training programme, with another 90 or so having completed the academy's Because We Care service culture training. The programme sessions were conducted between November 2017 and October 2018.

"We are glad to see the high level of interest in this programme that supports the professional development of Macao's retail practitioners," said Wen Hongyan, senior vice president of human resources for Sands China Ltd. "The Sands Retail Academy has been very successful, and we've received a lot of positive feedback from retailers and their employees. Initiatives like this assist to nurture talent in Macao, help create unforgettable shopping experiences for visitors, and support the continued development of Macao as a world centre of tourism and leisure."

Since the academy's launch in November 2013, more than 8,000 retail employees have attended its programmes and workshops. The academy introduced a new Manager Competence Development programme in October, targeted at training retailers' mid-level management staff.

October also saw the launch of a new initiative exclusive to the Sands Retail Academy, the Celebrity Mentor Workshop Series. Co-organised by the Macao Government Tourism Office and Sands China Ltd., the training programme invites celebrity mentors to conduct customer service workshops for retail professionals, letting them learn from experts in their respective fields.

Astrid Chan delivered the first workshop in the series, Creation of Personal Branding. The Hong Kong actress and UK-accredited trainer covered topics like how to build up a professional image, risk management, workplace etiquette, and communication skills. Motivational speaker Brian Cha is scheduled to facilitate his Sales and Consumer Behaviour workshop on Nov. 27.

Sands China Ltd. launched the Sands Retail Academy in 2013 to offer complimentary training to retail professionals at Sands Shoppes Macao – the interconnected group of malls comprising Shoppes at Venetian, Shoppes at Four Seasons, Shoppes at Londoner, and Shoppes at Parisian, which together feature over 850 retailers.

The Sands Retail Academy is the result of a collaborative effort between Sands Retail and Sands China's human resources department. It is one of the initiatives of the Sands China Academy – a programme focused on the career development of both Sands China team members and local Macao talent, including those employed by Sands China's retail partners.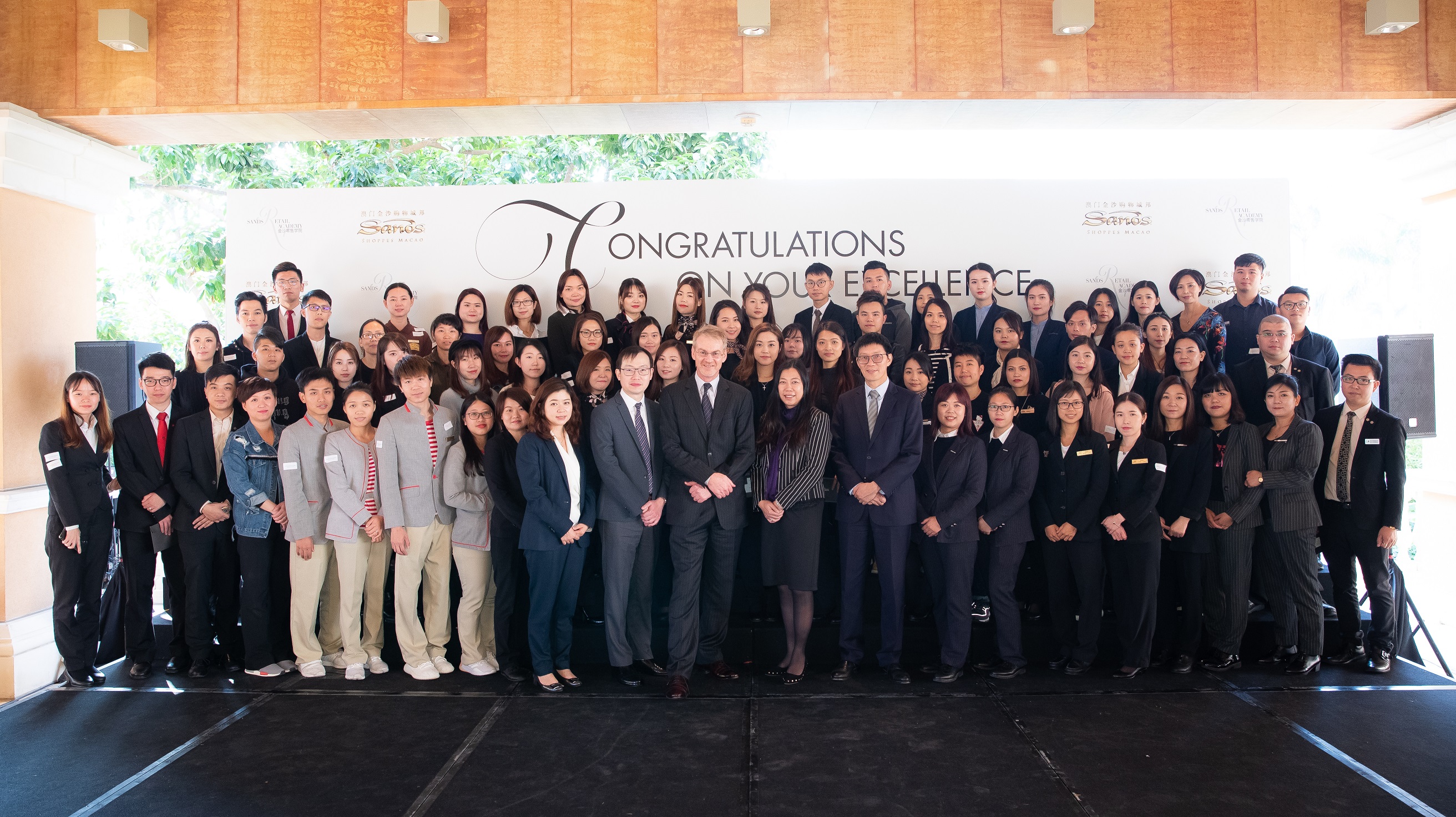 Photo caption: Graduates of the Sands Retail Academy attend a graduation ceremony Thursday at the Four Seasons Hotel Macao, Cotai Strip, with Sands China management in attendance.
About Sands China Ltd.

Sands China Ltd. (HKEx: 1928, Sands China or the Company) is a Cayman Islands registered company and is listed on The Stock Exchange of Hong Kong Limited. Sands China is the largest operator of integrated resorts in Macao. The Company's Cotai Strip portfolio is comprised of The Venetian® Macao, The Plaza® Macao, Sands® Cotai Central and The Parisian Macao. The Company also owns and operates Sands® Macao on the Macao peninsula. The Company's integrated resorts contain a diversified mix of leisure and business attractions and transportation operations, including large meeting and convention facilities; a wide range of restaurants; shopping malls; world-class entertainment at the Cotai Arena, The Venetian Theatre, The Parisian Theatre and the Sands Cotai Theatre; and a high-speed Cotai Water Jet ferry service between Hong Kong and Macao. The Company's Cotai Strip portfolio has the goal of contributing to Macao's transformation into a world centre of tourism and leisure. Sands China is a subsidiary of global resort developer Las Vegas Sands Corp. (NYSE: LVS).

For more information, please visit http://www.sandschina.com。