Sands China Recognises Exceptional Suppliers at Sixth Annual Sands Supplier Excellence Awards


(Macao, Nov. 29, 2018) – Sands China Ltd. honoured several of its outstanding suppliers Wednesday at The Venetian® Macao, at the 2018 Sands Supplier Excellence Awards. A global initiative of Sands China's parent company, Las Vegas Sands Corp., the annual event recognises the cooperation and services of some of the company's most noteworthy suppliers worldwide.

"The services of Sands China's suppliers are essential for our business, creating a partnership of mutual success," said Dr. Wilfred Wong, president of Sands China Ltd. "From micro-enterprises and SMEs to large corporations, each company plays a role in helping us deliver world-class experiences to guests and visitors of our integrated resorts. Sands China is pleased to acknowledge outstanding examples of their excellence through these awards each year."

Various Sands China business units and their employees nominated a total of 30 companies in this year's awards. Nominees are chosen from a pool of thousands of service providers and suppliers that do business with Sands China. The range of year's nominated companies includes industries such as food and beverage; marketing; construction; furniture, fixtures and equipment; and operating supplies and equipment, among others.

Awards were given to distinguished suppliers in seven categories: small- and medium-sized enterprise (SME); innovation; quality management; project management; corporate culture and sustainability, service excellence; and cost management.

Winners include local SMEs – a testament to their growth and to Sands China's continuous support to local enterprises.

Over 400 guests attended Wednesday's awards ceremony, including nearly 300 representing about 150 suppliers, mostly from Macao, Hong Kong and mainland China. The event featured carnival-themed entertainment and an appreciation dinner, with each guest receiving a gift of two eco-friendly stainless steel water bottles – provided by one of Sands China's local SME suppliers.

Award winners are selected each year by a judging committee composed of Sands China executive management. Judges consider several criteria, including suppliers' leadership, vision and strategy; product consistency and process capability; and creative partnership opportunities.

The winners of 2018 Sands Supplier Excellence Awards are:
CATEGORY
WINNER
Small- and Medium-Sized Enterprise (SME)
Kin Nam Hong Co. Ltd.
• Supplier of fresh and cut vegetables for Sands China since 2004; local SME has grown from six employees to 32, plus eight cold trucks for delivery
• Annual spend with Sands China has increased by a factor of 50 since 2004, from MOP 360K to 18 million; 60% of its business is with Sands China
• Provides competitive pricing, prompt response and excellent delivery service, even during emergencies
Innovation
SG Gaming Asia Limited
• Sands China's gaming/technology business partner since pre-opening of Sands Macao (2004)
• Provides Sands China with slot technology systems, slot cabinets, table game utility products, and slot utilities and spare parts
• Innovative and interactive slot machines have made waves in the industry
Quality Management
Yearfull Contracting (Macau) Limited
• Construction partner with Sands China since 2003
• Has successfully completed various important projects on time and within budget
• Has continued to diversify its capacity to suit Sands China's growing business needs, while demonstrating ability to undertake increasingly complex work with undiminished enthusiasm and quality
Project Management
LDF International Ltd.
• Supplier of sophisticated, handcrafted furniture for Sands China since 2014
• On-time delivery with high quality
• Experts on Sands China's project management procedures and requirements
Corporate Culture and Sustainability
Diversey Hong Kong Limited – Macau Branch
• Sands China's supplier of housekeeping chemicals since 2008
• All chemicals are 100% biodegradable
• Chemical production plants are certified ISO 14001 or higher
Service Excellence
CMGRP Ltd. (Jack Morton)
• Event management company working with Sands China since 2016 on VIP events, overseas roadshows, and other events
• Positive feedback from all Sands China departments having worked with the company
• Excellent service, strong in design; event proposals are consistently on-brand
Cost Management
Elecon International Limited
• Local micro-enterprise providing energy-savings LED lighting and solutions
• Has worked with Sands China on sustainability lighting projects since 2013
• Best competitiveness in local market with efficient cost management for high quality services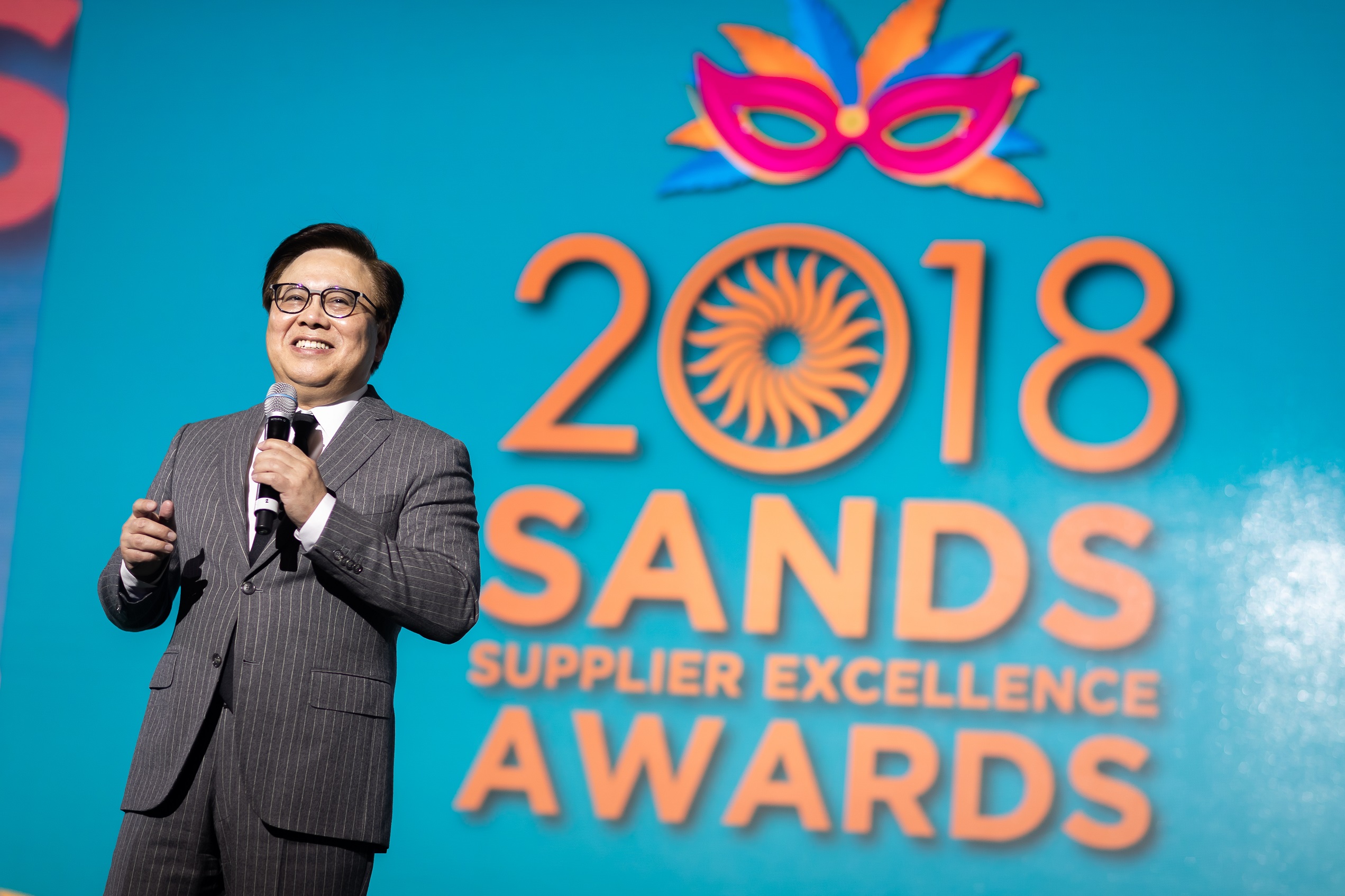 Photo caption:Dr. Wilfred Wong, president of Sands China Ltd., addresses guests at the sixth Sands Supplier Excellence Awards Wednesday at The Venetian Macao. The annual event recognises the high level of cooperation and service of some of the company's most outstanding suppliers.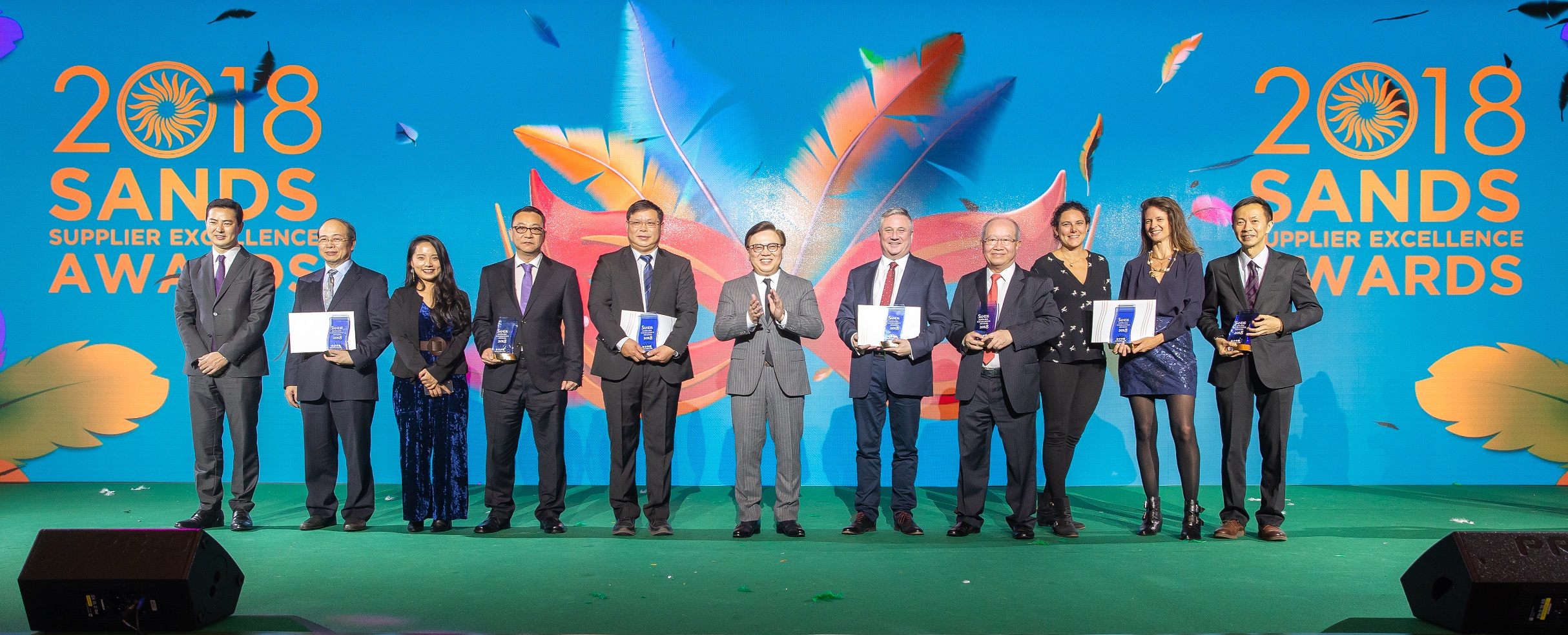 Photo caption: Representatives of seven outstanding companies are honoured on stage at the 2018 Sands Supplier Excellence Awards Wednesday at The Venetian Macao, attended by Dr. Wilfred Wong (sixth from left), president of Sands China Ltd., and Charlie Cai (first from left), vice president of procurement and supply chain for Venetian Macau Limited.
About Sands China Ltd.
Sands China Ltd. (HKEx: 1928, Sands China or the Company) is a Cayman Islands registered company and is listed on The Stock Exchange of Hong Kong Limited. Sands China is the largest operator of integrated resorts in Macao. The Company's Cotai Strip portfolio is comprised of The Venetian® Macao, The Plaza® Macao, Sands® Cotai Central and The Parisian Macao. The Company also owns and operates Sands® Macao on the Macao peninsula. The Company's integrated resorts contain a diversified mix of leisure and business attractions and transportation operations, including large meeting and convention facilities; a wide range of restaurants; shopping malls; world-class entertainment at the Cotai Arena, The Venetian Theatre, The Parisian Theatre and the Sands Cotai Theatre; and a high-speed Cotai Water Jet ferry service between Hong Kong and Macao. The Company's Cotai Strip portfolio has the goal of contributing to Macao's transformation into a world centre of tourism and leisure. Sands China is a subsidiary of global resort developer Las Vegas Sands Corp. (NYSE: LVS).

For more information, please visit www.sandschina.com.